Catalogs

>

RA-915 M
Catalog excerpts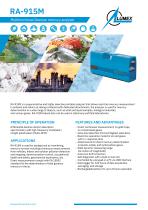 Portable Zeeman Mercury Analyzer Method of Measurements and Principle of Operation Atomic absorption spectrometry at 254 nm with Zeeman correction for background absorption for interference‑free measurement. Features and Benefits MM Simple to operate. MM Rugged/Versatile design for laboratory and field. MM Ultra-low detection limit and highest selectivity. MM Real-time operation mode for air and gases. MM Direct determination of mercury in liquid and solid matrices within 60 seconds (attachments required). No sample preparation, no use of hazardous chemicals or bottled gases. MM Built-in performance verification test cell and auto zero function. MM Wide dynamic measuring range (four orders of magnitude). MM Controlled by a keypad or a computer via USB interface. MM Data logger for 122 hours of data acquisition, averaging, and storage. MM Rechargeable battery for up to 12 hours operation.
Open the catalog to page 1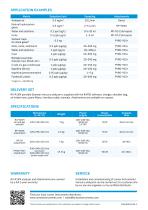 Application Examples MATRIX DETECTION SAMPLING ATTACHMENTS LIMIT Natural and other gases Solid samples (soils, rocks, sediments) Sorbent traps for stack gases* Biological samples (tissues, liver, blood, hair, etc.) Oil and oil products Foodstuff, plants * Specifications DIMENSIONS (L × W × H) POWER SUPPLY 430 × 340 × 135 mm (pyrolyzer) 400 × 280 × 135 mm 17.5 kg (power supply unit) POWER ANALYSIS CONSUMPT ION TIME Direct on-line RA-915M portable Zeeman mercury analyzer comes with the RAPID software, charger, shoulder bag, intake hose/filter, mercury filter, cables, manuals. RA-915M analyzer...
Open the catalog to page 2
All Lumex Instruments catalogs and technical brochures

Compare up to 10 products