Catalogs

>

WECO E.1
Catalog excerpts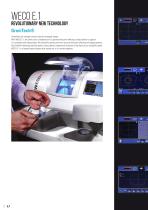 WECO E.1New Technology Revolutionary GraviTech® Sometimes the simplest solution has the strongest impact. With WECO E.1, the Demo Lens is balanced on its' gravitational point offering a unique ability to capture it's consistent and unique shape. By taking this gravity point into account during the blocking and edging process, GraviTech® Technology delivers perfect sizing without mechanical distortion of the frame at an incredible speed. WECO E.1 is a feature packed system that stands out in it's market segment.
Open the catalog to page 2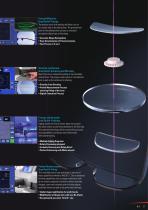 Fast and Effective: GraviTech® Tracing The process starts with placing the Demo Lens on its' convex side on the layout plate. The gravitational point of the balanced lens ensures a consistent and perfect digital copy of the shape. • Accurate Shape Recognition • Easy Determination of Frame Curvature • Fast Process (< 3 sec.) Accurate and Secure: GraviTech® Centering and Blocking Next, the Lens is centered according to the calculated Gravity Point. This unique contact point on the balanced lens is used as the reference for blocking. • Parallax Free Blocking • artial Measurement Process P...
Open the catalog to page 3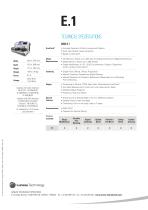 TECHNICAL SPECIFICATIONSWECO E.1 GraviTech® • Accurate Detection of Demo Lenses and Patterns • Touch Free Optical Capturing System • Based on GraviTech® Complies with safety directives: EN 61010-1, Di 2006/42/EC Di 2006/95/EC, Di 2002/95/EC Di 2002/96/EC Complies with EMC directives: Di 2004/108/EC, EN 55022 "Classe B", EN 61000-3-2, EN 61000-3-3, EN 61000-6-2 UL standards for 115 V version: UL/CSA 61010-1 Shape- • Job Memory: Stores up to 300 Jobs (including Centering and Edging Parameters) Administration • Shape Memory: Stores up to 200 Shapes • Shape Modification: A / B / 1/2 B/...
Open the catalog to page 4
All Luneau Technology catalogs and technical brochures
Archived catalogs

Compare up to 10 products