Catalogs

>

Manfredi

>

KERAPRESS
Catalog excerpts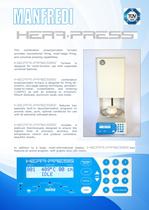 This combination press/porcelain furnace provides conventional firing, multi-stage firing, and universal pressing capabilities. furnace is designed for multi-function use with expanded universal features. combination press/porcelain furnace is designed for firing allceramic, two-stage baking techniques, porcelainfused-to-metal, crystallization, and sintering (1200°C) as well as pressing to zirconium, lithium disilicate, aluminum oxide, and metal. features two separate built-in decontamination programs to provide clean, pure, optimal conditions for use with all elements indicated above. includes a platinum thermocouple designed to ensure the highest level of precision, accuracy, and temperature control and produce consistent, beautiful results. In addition to a large, multi-informational display, features an active program with graphic blue LED colors.
Open the catalog to page 1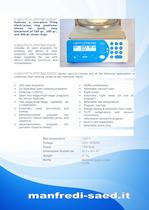 features a one-piece firing block/press ring positioner allows for quick, easy placement of 100 gr., 200 gr., and 300 gr. press rings. includes 20 open programs for pressing and plenty of open programs with two-stage/multistage capability for use with lithium disilicate, zirconium, and crystallization. allows users to choose any of the following applications to customize their working cycles as per individual needs: 200 open programs 20 Dedicated open pressing programs Sintering (1200°C) Open two-stage/multi-stage programs for lithium disilicate Two-stage/multi-stage capability for...
Open the catalog to page 2
All Manfredi catalogs and technical brochures
Compare up to 10 products