Catalogs

>

ML SERIES Rotary Filling and Capping Monobloc
Catalog excerpts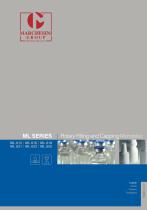 ML SERIES › Rotary Filling and Capping Monobloc SERIE ML Riempitrice tappatrice rotativa alta velocità Macchina rotativa monoblocco ad alta velocità per il riempimento e la tappatura di flaconi, equipaggiata con una testa di riempimento a 12 stazioni, ed una o due teste di tappatura, a 9 stazioni, a seconda del tipo di confezione da realizzare. Caratterizzata dalla massima flessibilità, precisione nel dosaggio e dall'estrema compattezza con performance elevate, questa serie ha caratteristiche costruttive specifiche per il settore farmaceutico ed è costruita per rispondere alle più stringenti normative GMP . Technical data Dati tecnici Dosing range Installed power Air consumption Indicative weight Dosaggio Potenza installata Consumo aria compressa Peso indicativo Size range External diameter Square cont. Rectangular cont lenght Rectangular cont width Cont. Height without closure Mechanical output (up to) Diametro esterno Flacone quadrato Larghezza cont. rettangolare Spessore cont. rettangolare Altezza cont. senza tappo Velocità meccanica (fino a ) Design Argento e China - ph. C. Bertolini / A. Cocchi ML SERIES High speed Rotary filling and capping monobloc High speed rotary monobloc machine, suitable to fill and cap vials, equipped with one turret with 12 filling heads and one or two capping turrets with 9 heads each according to the kind of product to be handled. Machine main characteristics are great flexibility, dosing accuracy, compact layout and high performances. This series is designed for the pharmaceutical sector and complies with strict GMP rules. All dimensions are expressed in mm / tutte le dimensioni sono espresse in mm ML 616 The machine is available in the following versions: ML 615 > Filling only ML 616 > Filling + capping (1 closure) ML 618 > Filling + capping (2 closures) ML 621 > Solo tappatrice (1 chiusura) ML 622 > Solo tappatrice (versione speciale con 2 operazioni di chiusura combinate) ML 625 > Solo tappatrice (2 chiusure) ML 621 > Capping only (1 closure) ML 622 > Capping only (2 closures: plugging combined with capping) ML 625 > Capping only (2 closures) Le versioni prodotte sono: ML 615 > Solo riempitrice ML 616 > Riempitrice + tappatrice (1 chiusura) ML 618 > Riempitrice + tappatrice (2 chiusure) Main characteristics The machine frame encloses the transmission gears, it is made of stainless steel and it is completely separated from the working area. The through tabletop conveyor, for the bottle inlet and outlet, is made of stainless steel, with adjustable guides and independent control. The parts in contact with the product are made of 316 L stainless steel. Clean design (no sharp edges or dead points) allowing a very easy cleaning by the operator. The electrical system & safety devices comply with current CE standards. The technical specifications given here are therefore subject to change without prior notice or without liability. I limiti di formato possono cambiare a seconda delle diverse applicazioni. Marchesini Group adatta costantemente i propri prodotti alle esigenze del mercato. Le specifiche tecniche qui riportate sono perciò suscettibili di cambiamento. via Nazionale, 100 - 40065 Pianoro Bologna - Italy QUALITY SYSTEM Certificate Nr. IT02/0409 Liquids Solids Creams Packaging English / Italiano Sicurezze installate La macchina è dotata di tutti i dispositivi per garantire la sicurezza, quali: Controllo sovraccarico motore Controllo carico minimo di tutti i componenti Controllo carico minimo flaconi in entrata Controllo carico massimo flaconi in uscita Arresto macchina dopo 3 errori consecutivi Protezioni antinfortunistiche con sportelli in vetro o metacrilato dotate di micro di sicurezza The Marchesini Group is continually updating their products to market needs. Edition January 2008 - Printed by www.tipolitografiafg.com The change over size range can change in accordance with the different application. Colori compositi Rotary Filling and Capping Monobloc Caratteristiche generali e costruttive Basamento in Acciaio Inox che racchiude tutti gli organi di trasmissione, nettamente separati dalla zona di lavoro Nastri di entrata e di uscita in Acciaio Inox, dotati di guide registrabili con comando indipendente Parti a contatto con il prodotto in Acciaio Inox 316 L Struttura priva di spigoli o angoli morti per consentire una facile pulizia Impianto elettrico e sicurezze rispondenti a norma CE Safety features The machine is equipped with all devices necessary to guarantee safety: motor overload control minimum load control for all the components inlet bottles minimum load control outlet bottles maximum load control machine stop after three consecutive errors safety guards made of glass or methalcryte, equipped with safety micro
Open the catalog to page 1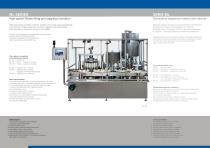 High speed Rotary filling and capping monobloc Riempitrice tappatrice rotativa alta velocità High speed rotary monobloc machine, suitable to fill and cap vials, equipped with one turret with 12 filling heads and one or two capping turrets with 9 heads each according to the kind of product to be handled. Macchina rotativa monoblocco ad alta velocità per il riempimento e la tappatura di flaconi, equipaggiata con una testa di riempimento a 12 stazioni, ed una o due teste di tappatura, a 9 stazioni, a seconda del tipo di confezione da realizzare. Machine main characteristics are great...
Open the catalog to page 2

The machine can be manufactured in 6 versions La macchina viene prodotta in 6 versioni ML 615 Filling only Filling + capping (1 closure) Solo riempitrice Riempitrice + tappatrice (1 chiusura) Solo tappatrice (1 chiusura) SEZIONE RIEMPIMENTO The filling unit is equipped with a 12 filling heads turret with the following characteristics: Centralised adjustment of the turret height by servomotor Draining chute to collect spilled liquid located under the filling unit Bottles transport through self-centring pick up pincers with quick release, mechanically driven and with bottles pick up by the...
Open the catalog to page 3
All Marchesini Group catalogs and technical brochures

Compare up to 10 products