Catalogs

>

Mediana

>

YM9000 EMC
Catalog excerpts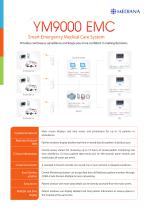 Smart Emergency Medical Care System Provides continuous surveillance and keeps you more confident in making decisions. Control center ·Sub viewer ·Alarm system ·Smart phone viewer ·Server Control ·Main viewer ·Patient Information viewer ·DB viewer ·MAP system ·Sub viewer ·Alarm system ·Smart phone viewer ·NES(CDMA,GSM) ·DBs ·Gateway server ·EMR interface(HL7/MFER/XML) Server Ambulance 16 patients network Real time & Stored data 72 hours information 3 channel recorder Easy Wireless solution Easy access Multiple real time display ·Sub viewer ·Alarm system ·Smart phone viewer Main screen displays real time waves and parameters for up to 16 patients in ambulances. Patient windows display detailed real time or stored data for patient's individual care. Central review station for reviewing up to 72 hours of stored patient monitoring real time waveforms, 72 hours patient data trend, and 10~300 seconds alarm records and saved strips, all waves per event. A standard 3 channel recorder can record one or two real-time or delayed waveforms. Central Monitoring System can accept data from all Mediana's patient monitors through CDMA (Code Division Multiple Access) networking. Patient window with more data details can be directly accessed from the main screen. Patient windows can display detailed real time patient information at various places in the hospital at the same time.
Open the catalog to page 1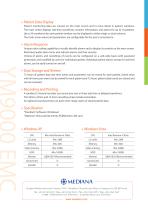 + Patient Data Display Patient monitoring data are viewed on the main screen and in more detail in patient windows. The main screen displays real-time waveforms, numeric information, and alarms for up to 16 patients. Up to 20 waveforms for each patient window can be displayed in either single or dual columns. The main screen waves and parameters are configurable for the user's convenience. + Alarm Response Unique color coding capability to visually identify alarms and to display its severity on the main screen. Multi-level audio alarm tones also indicate alarms and their severity. Criteria...
Open the catalog to page 2
All Mediana catalogs and technical brochures

Compare up to 10 products