Catalogs

>

MD3100
Catalog excerpts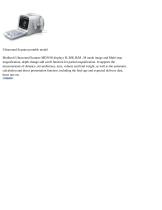 Ultrasound Scanner portable model Meditech Ultrasound Scanner MD3100 displays B, B/B, B/M , M mode image and Multi-step magnification, depth change add scroll function for partial magnification. It supports the measurements of distance ,circumference, area, volume and fetal weight ,as well as the automatic calculation and direct presentation function, including the fetal age and expected delivery date, heart rate etc.
Open the catalog to page 1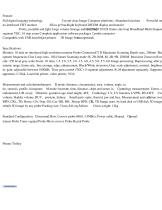 Full digital imaging technology Crystal-clear Image Computer platforms, Abundant functions Powerful im no interlaced CRT monitor Silica gel backlight keyboard DICOM display and transfer Pretty, portable and light Large volume Storage and128/256/512/1024 frame cine loop Broadband Multi frequen cine loop segment TGC, 16 step zoom Complete application software packages 2 probe connector Compatible with USB laser/inkjet printers 3D Image Func tion(optional) Specifications: Monitor: 10 inch no interlaced high-resolution monitor Probe Connector£º2 D Maximum Sc anning Depth: max. 250mm Mu egment...
Open the catalog to page 2
All Meditech Equipment catalogs and technical brochures
Compare up to 10 products