Catalogs

>

SpirOx
Catalog excerpts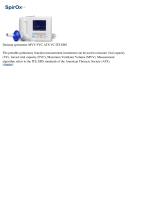 Desktop spirometer MVV FVC ATS VC ITS ERS The portable pulmonary function measurement instrument can be used to measure vital capacity (VC), forced vital capacity (FVC), Maximum Ventilator Volume (MVV). Measurement algorithm refers to the ITS, ERS standards of the American Thoracic Society (ATS)
Open the catalog to page 1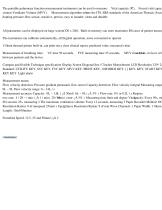 The portable pulmonary function measurement instrument can be used to measure: Vital capacity (V C), Forced vital capaci ximum Ventilator Volume (MVV). Measurement algorithm referto the ITS, ERS standards of the American Thoracic Socie s dopting pressure-flow sensor, sensitive, precise, easy to launder, clean and durable All parameters can be displayed on large screen(320 x 240), Built-in memory can store maximum 3 cases of patient measur 00 The instrument can calibrate automatically, all English operation, more convenient to operate 110mm thermal printer built-in, can print out a clear...
Open the catalog to page 2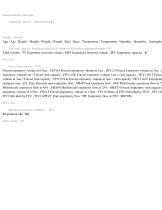 Patient informa- tion input Patient ID : ID No. . XXXXXXXXXX Gender : Gender . Age : Age . Height : Height . Weight : Weight . Race : Race . Temperature : Temperature . Humidity : Humidity . Atmospher Test Vital capacity, Maximum inspiration volume or Maximum exhalation volume : VC Tidal volume : TV Expiratory reserved volume : ERV Inspiratory reserved volume : IRV Inspiratory capacity : IC FVC Test Forced vital capacity : FVC Forced expiratory volume at 0.5sec : FEV0.5 Forced expiratory volume at 1sec : FEV1.0 Forced expiratory volume at 3sec : F expiratory volume1sec / Forced vital...
Open the catalog to page 3
All Meditech Equipment catalogs and technical brochures
Compare up to 10 products