Catalogs

>

EasyCUT accessories for microtome catalog
Catalog excerpts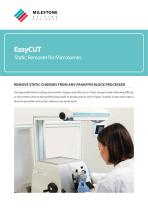 EasyCUT Static Remover for Microtomes REMOVE STATIC CHARGES FROM ANY PARAFFIN BLOCK PROCESSED During paraffin block cutting, electrostatic charges may often occur. These charges make ribboning difficult, as the sections stick to the paraffin block itself, to forceps and to user's fingers. Transfer to the water bath is almost impossible and section ribbons may break apart.
Open the catalog to page 1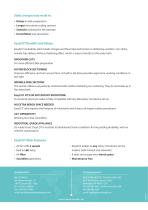 Static charges may result in: • Delays in slide preparation • Longer microtome cutting sessions • Stressful workload for the operator • Unconfident user procedure EasyCUT Benefits and Values: EasyCUT neutralizes electrostatic charges and thus helps technicians in obtaining a perfect, non-sticky, wrinkle-free ribbon, without shattering effect, which is easy to transfer to the water bath. SMOOTHER CUTS For more efficient slide preparation FASTER BLOCK SECTIONING Improves efficiency and turn around time. Its built-in led lamp provides ergonomic working conditions in low light. WRINKLE-FREE...
Open the catalog to page 2
All Milestone catalogs and technical brochures

Compare up to 10 products