Catalogs

>

EMax Plus Microplate Reader
Catalog excerpts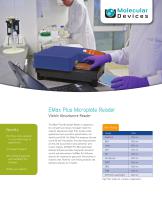 EMax Plus Microplate Reader Visible Absorbance Reader Benefits • 8 filters come standard to cover wide range of applications • Compact footprint • Pre-defined protocols with SoftMax® Pro Software • Walk-up useability The EMax® Plus Microplate Reader is designed to be a versatile and robust microplate reader for research laboratories. Eight filter modes enable applications such as protein quantification, cell viability and ELISA. The EMax Plus measures flat and round 96-well microplates. Accurate measurements are ensured by automatic lamp calibration prior to each reading. SoftMax® Pro Microplate Data Analysis Software provides integrated instrument control and data analysis. SoftMax Pro Software, data can be visualized as gray scale, kinetic plots or reaction rates. Powerful curve fitting protocols and statistical analysis are included. Filter Modes Assay Cell denisty Reference wavelength Eight filter modes for a variety of appli
Open the catalog to page 1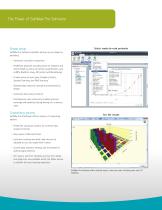 The Power of SoftMax Pro Software Simple setup Select ready-to-read protocols SoftMax Pro Software simplifies setting up your assays by providing: • Automatic instrument recognition P • redefined protocols including those for endpoint and kinetic ELISA as well as for protein quantification such as BCS, Bradford, Lowry, DC protein and NanoOrange • wide variety of scan types: Endpoint, Kinetic, A Spectral Scanning, and Well Scanning • tandard data reduction settings are preselected as S default Slide imaging • Automatic data recovery feature C • ontemporary user community enabling protocol...
Open the catalog to page 2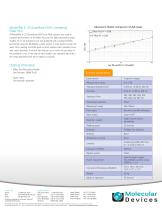 Absorbance Reader Comparison: ELISA Assay Mouse/Rat IL-22 Quantikine ELISA comparing EMax Plus EMax Plus R2 = 0.98 E-Max R2 = 0.99 A Mouse/Rat IL-22 Quantikine ELISA from R&D systems was used to compare performance of the EMax Plus and the EMax absorbance plate readers. An IL-22 standard curve was prepared and a sandwich ELISA performed using the MultiWash+ plate washer in strip mode to wash the wells. After reading the ELISA plate on both readers, each standard curve was nearly identical. A control well was set up to verify the accuracy of the standard curve. In the case of both readers,...
Open the catalog to page 3
All Molecular Devices catalogs and technical brochures

Archived catalogs
Compare up to 10 products