Catalogs

>

EMax Plus Microplate Reader
Catalog excerpts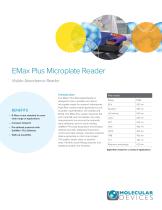 EMax Plus Microplate ReaderVisible Absorbance Reader BENEFITS • 8 filters come standard to cover wide range of applications • Compact footprint • Pre-defined protocols with SoftMax® Pro Software • Walk-up useability Introduction The EMax® Plus Microplate Reader is designed to be a versatile and robust microplate reader for research laboratories. Eight filter modes enable applications such as protein quantification, cell viability and ELISA. The EMax Plus reader measures flat and round 96-well microplates. Accurate measurements are ensured by automatic lamp calibration prior to each reading. SoftMax® Pro Data Acquisition and Analysis Sofware provides integrated instrument control and data analysis. Visualize acquired data as grayscale or color map images, 3-D graphs, kinetic plots, or reaction rates. Powerful curve fitting protocols and statistical analysis are included. Eight filter modes for a variety of applications.
Open the catalog to page 1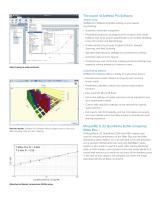 The power of SoftMax Pro Software Simple setup SoftMax Pro Software simplifies setting up your assays by providing: • Automatic instrument recognition • redefined protocols including those for endpoint and kinetic P ELISA as well as for protein quantification such as BCS, Bradford, Lowry, DC protein and NanoOrange • wide variety of scan types: Endpoint, Kinetic, Spectral A Scanning, and Well Scanning • Standard data reduction settings are preselected as default • Automatic data recovery feature • ontemporary user community enabling protocol exchange and C expertise sharing among our...
Open the catalog to page 2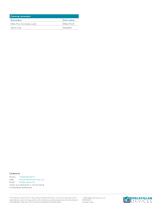 Email: info@moldev.com Check our website for a current listing The trademarks used herein are the property of Molecular Devices, LLC or their respective owners. Specifications subject to change without notice. Patents: www.moleculardevices.com/productpatents FOR RESEARCH USE ONLY. NOT FOR USE IN DIAGNOSTIC PROCEDURES. ©2016 Molecular Devices, LLC 10/16 1903C Printed in USA MOLECULAR DEVICES
Open the catalog to page 4
All Molecular Devices catalogs and technical brochures

Archived catalogs

Compare up to 10 products