Catalogs

>

Recombinant CloneDetect - Data Sheet
Catalog excerpts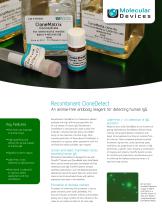 Recombinant CloneDetect An animal-free antibody reagent for detecting human IgG Key Features • Free from raw materials of animal origin • High specificity and affinity for all sub-classes of human IgG • Specific to the Fc region • Label-free, in situ detection of IgG secretion • Each batch is subjected to rigorous safety assessment with full certification Recombinant CloneDetect is a fluorescein-labeled antibody with high affinity and specificity for all sub-classes of human IgG. Recombinant CloneDetect is manufactured under animal-free methods in Chinese Hamster Ovary cells (CHO) using no raw materials of animal origin. Each manufactured batch of Recombinant CloneDetect is subjected to a rigorous safety assessment, with full certifications readily available upon request. Screen and select mammalian clones secreting human IgG Recombinant CloneDetect is designed for use with ClonePix™ Systems and CloneMedia Semi-Solid Media when used to screen and select mammalian cell lines secreting human IgG. ClonePix Systems increase workflow productivity in over 100 biopharmaceutical laboratories around the world. Users can screen more clones in less time and select clones with optimal expression levels early in the workflow. Formation of discrete colonies To prepare for screening, cells are grown in source plates containing semi-solid CloneMedia. This ensures formation of discrete colonies and facilitates plating out of large numbers of cells. Variants of the ready-to-use media are listed on the next page. Label-free, in situ detection of IgG secretion Added to semi-solid CloneMedia at the moment of plating, Recombinant CloneDetect diffuses freely, creating immunoprecipitation complexes with target immunoglobulins as they are secreted from the colonies. These complexes generate localized fluorescent signals that, under optimized assay conditions, are proportional to the amount of IgG secreted by a specific clone. Utilizing a combination of imaging and robotics, ClonePix System screens for clonality and productivity simultaneously prior to collecting the highest producing clones in a rapid one-step process. IgG secretion revealed:Fluorescent images of CHO-S cells taken on a ClonePix System 12 days after plating using Recombinant CloneDetect Media.
Open the catalog to page 1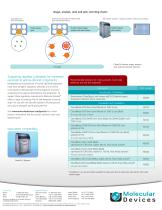 Image, analyze, rank and pick secreting clones Cells plated into semi-solid medium User selects colonies – based on system's analysis and ranking Screening and selection of colonies based upon user-defined criteria Clonal colonies grow ClonePix System images, analyzes, and ranks colonies ClonePix System picks colonies ClonePix Systems image, analyze, rank and pick selected colonies. Supporting regulatory demands for minimized exposure to animal-derived components Development and production of human IgG biotherapeutics must meet stringent regulatory demands, one of which is the ability to...
Open the catalog to page 2
All Molecular Devices catalogs and technical brochures

Archived catalogs

Compare up to 10 products