Catalogs

>

ScanLater Western Blot Detection System
Catalog excerpts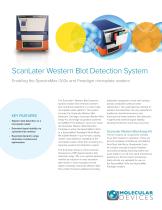 ScanLater Western Blot Detection SystemEnabling the SpectraMax i3/i3x and Paradigm microplate readers KEY FEATURES • Western blot detection on a microplate reader • Extended signal stability via substrate-free method • Expanded dynamic range eliminates cumbersome optimization The ScanLater™ Western Blot Detection System enables first-of-its-kind western blot membrane detection in a multi-mode microplate reader platform. This system includes the ScanLater Western Blot Detection Cartridge, ScanLater Western Blot Assay Kit, and image acquisition powered by SoftMax® Pro Software. Users can install the ScanLater Western Blot Detection Cartridge in either the SpectraMax® i3/i3x or a SpectraMax® Paradigm® Multi-Mode Microplate Reader in just minutes, adding western blot detection capability to the microplate reader, rather than investing in a separate western blot detection system. The ScanLater Assay is a time-resolved fluorescence (TRF)-based western blot detection assay. TRF is an optimal detection method as reduction in stray excitation light results in lower background and higher sensitivity. ScanLater Western Blot Kits contain Europium-labeled secondary antibodies designed to work with existing primary antibodies without further optimization. This substrate-free method of western blot detection not only outperforms traditional chemiluminescence and fluorescence-based western blot detection, it significantly extends signal stability, allowing membrane scanning at any time. ScanLater Western Blot Assay Kit The kit contains all components needed to go from transfer to detection. There are five kits available: Anti-Mouse, Anti-Rabbit, Anti-Goat, Anti-Rat or Streptavidin. Each kit contains enough Europium-labeled secondary antibody, blocking buffer, and wash buffer to run 10 mini-sized membranes (explorer) or 30 mini-sized membranes (bulk). All kits are validated for use on the SpectraMax i3/i3x and SpectraMax Paradigm readers.
Open the catalog to page 1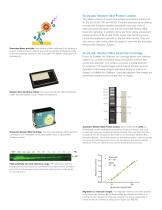 ScanLater Western Blot Protein Ladder 3 1 2 ScanLater Assay principle. Use existing primary antibody (1) for binding to protein of interest (2). Eu-labeled ScanLater Secondary Antibody (3) binds to primary antibody. Detection with ScanLater TRF Western Blot Detection Cartridge (4). The ladder consists of seven biotinylated recombinant proteins at 10, 20, 40, 50, 80, 100 and 140 kD. They are detected by incubating the blot with Europium-labeled streptavidin and they show as light colored bands when read with the ScanLater Western Blot Detection Cartridge. In addition, there are three visible...
Open the catalog to page 2
Technical specifications Compatible with these Molecular Devices systems Contact Us Phone: +1-800-635-5577 Email: info@moldev.com Check our website for a current listing SpectraMax i3/i3x Multi-Mode Microplate Reader SpectraMax Paradigm Multi-Mode Microplate Reader MOLECULAR DEVICES The trademarks used herein are the property of Molecular Devices, LLC or their respective owners. Specifications subject to change without notice. Patents: www.moleculardevices.com/productpatents
Open the catalog to page 3
All Molecular Devices catalogs and technical brochures

Archived catalogs

Compare up to 10 products