Catalogs

>

SpectraMax MiniMax 300
Catalog excerpts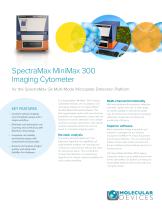 SpectraMax MiniMax 300 Imaging Cytometer for the SpectraMax i3x Multi-Mode Microplate Detection Platform KEY FEATURES • ombine cellular imaging C and microplate assays into a single workflow • liminate cell staining for cell E counting and confluency with StainFree Technology • omplete cell viability C and toxicity assays with multichannel functionality • cquire and analyze images A quickly and easily with SoftMax Pro Software The SpectraMax® MiniMax™ 300 Imaging Cytometer enables cell visualization and cell-based analysis on the SpectraMax® i3x Multi-Mode Microplate Reader. This field-upgradeable option with one-of-a-kind brightfield cell segmentation, green and red fluorescent channel detection and a simple workflow, provides researchers with cellular analysis capability without the need to invest in a complex imaging system. No-stain analysis The patent-pending StainFree™ Cell Detection Algorithm for brightfield cell segmentation enables cell counting and confluency measurement without the need for destructive stains. This combination of label-free detection and proprietary algorithms for cellular analysis simplifies the cell counting workflow. Multi-channel functionality With two additional fluorescence detection channels—green and red—a wide range of cellular viability or cell toxicity assays may be performed and analyzed, including ratiometric assays like live-dead and transfection efficiency. Superior software Most importantly, image acquisition and analysis is managed via our industry recognized SoftMax® Pro Data Acquisition and Analysis Software. The set up process follows simple plate reader prompts and the pre-defined analysis features get you to results quickly. The SpectraMax MiniMax 300 Imaging Cytometer option can be added at any time to the SpectraMax i3x System, providing an expandable platform that evolves with your changing needs.
Open the catalog to page 1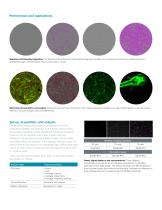 StainFree Cell Detection Algorithm. Our patent-pending StainFree Cell Detection Algorithm enables cell counting and confluency measurements on brightfield images, eliminating the need to stain cells or nuclei. Multi-channel acquisition and analysis. Choose from up to three channels for your image acquisition. Analyze your data independently or use the overlay feature to analyze multiple colors simultaneously. Set-up, acquisition, and analysis Very low concentration Low concentration Medium concentration The MiniMax Imaging Cytometer is controlled by the wellestablished SoftMax Pro Software,...
Open the catalog to page 2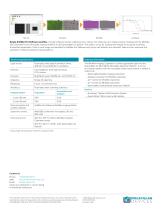 Simple SoftMax Pro Software workflow. A single software solution addresses your needs, from plate set-up to image analysis. Imaging with the MiniMax 300 Cytometer mirrors the plate reading workflow on the SpectraMax i3x System. The plate is set up for reading and images are acquired according to specified parameters. Cells in each image are identified by SoftMax Pro Software and cell-by-cell statistics are collected. Data are then analyzed and visualized in different graphical representations. Technical specifications Ordering information Light source Proprietary solid state illumination,...
Open the catalog to page 3
All Molecular Devices catalogs and technical brochures

Archived catalogs

Compare up to 10 products