Catalogs

>

MO-YXQG04-18 VERTICAL TOP LOADING AUTOCLAVES
Catalog excerpts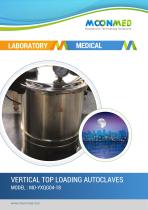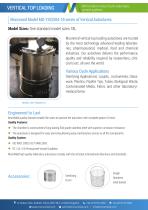 With modern robust Semi-Automatic control systems Moonmed Model MO-YXQG04-18 series of Vertical Autoclaves Model Sizes: One standard model sizes 18L Moonmed vertical top loading autoclaves are trusted by the most technology advanced leading laboratories, pharmaceutical, medical, food and chemical industries. Our autoclave delivers the performance, quality and reliability required by researchers, clinician's etc. all over the world. Various Cycle Applications Sterilizing Applications: Liquids, , Instruments, Glassware, Plastics, Pipette Tips, Tubes, Biological Waste, Contaminated Media,...
Open the catalog to page 2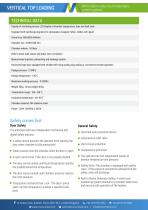 With modern robust Semi-Automatic control systems VERTICAL TOP LOADING TECHNICAL DATA Display of sterilizing process LCD display of chamber temperature, time and fault code Equipped with sterilizing programs for unwrapped, wrapped, Fabric, rubber and Liquid Overal size: 560x530x 450mm Chamber size : Φ250×350 mm Chamber volume : 18 liters Built-in water tank, steam and water inner circulation Manual water injection, exhausting and drainage system Horizontal type door equipped with reliable self-rising sealing ring making a convenient smooth operation Design pressure : 0.3MPa Design...
Open the catalog to page 3
All Moonmed Group catalogs and technical brochures

Compare up to 10 products