Catalogs

>

MTA

>

AQUARIUS G ME
Catalog excerpts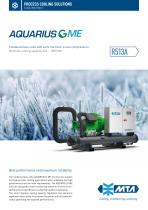 PROCESS COOLING SOLUTIONS COOLING ONLY Condenserless units with semi hermetic screw compressors. Nominal cooling capacity 426 – 1829 kW Best performance and maximum reliability. The condenserless units AQUARIUS G ME are the best solution for large process cooling applications when reliability and high performances are the main requirements. The AQUARIUS G ME units are designed to meet market requirements in terms of versatility and energy efficiency using high quality components. The smart stepless cooling capacity regulation and electronic expansion valves allow to increase the partial and full loads efficiency optimising the seasonal performances.
Open the catalog to page 1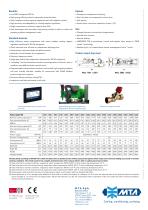 • Soft starter; • High accuracy and adaptability in cooling capacity regulation; • Power factor correction capacitors (cosф > 0,9). • Single compressors minimum capacity step 25%; • Heat exchangers with low water side pressure drops in order to reduce the Kits • Flanged hydraulic connections (evaporators); pumping systems management costs. • Antivibration mounts; Standard features • Remote display; • High efficiency screw compressors with smart stepless cooling capacity • xWEB300D EVO to monitoring, control and register data, based on "WEB regulation optimised for R513A refrigerant; server"...
Open the catalog to page 2
All MTA catalogs and technical brochures
Compare up to 10 products