Catalogs

>

MTA

>

AQUARIUS G
Catalog excerpts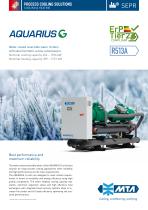 PROCESS COOLING SOLUTIONS COOLING & HEATING AQUARIUS Water cooled reversible water chillers with semi hermetic screw compressors. Nominal cooling capacity 456 – 1934 kW Nominal heating capacity 399 – 1721 kW * Best performance and maximum reliability. The water cooled reversible water chiller AQUARIUS G is the best solution for large process cooling applications when reliability and high performances are the main requirements. The AQUARIUS G units are designed to meet market requirements in terms of versatility and energy efficiency using high quality components. The smart stepless cooling capacity regulation, electronic expansion valves and high efficiency heat exchangers with integrated heat recovery systems allow to increase the partial and full loads efficiency optimising the seasonal performances. * Data referred to units fitted with heat pump option.
Open the catalog to page 1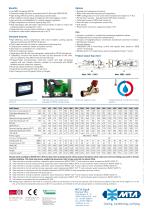 • High efficiency screw compressors with smart stepless cooling capacity regulation optimised for R513A refrigerant; • Check valve and shut-off valve on compressors discharge line; • Compressors crankcase heater and phase monitor; • Automatic circuit breakers for compressors; • Electronic expansion valves; • Single pass shell & tube heat exchangers optimised for R513A refrigerant; • "Unloading" function that allows the start-up and operation of the units, even in conditions very different by the nominal ones; • Programmable microprocessor electronic control with high computing capacity and...
Open the catalog to page 2
All MTA catalogs and technical brochures
Compare up to 10 products