Catalogs

>

MTA

>

HAEevo TECH
Catalog excerpts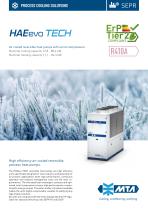 PROCESS COOLING SOLUTIONS HAE evo Air cooled reversible heat pumps with scroll compressors. Nominal cooling capacity 12,8 - 88,4 kW Nominal heating capacity 11,1 - 84,3 kW High efficiency air cooled reversible process heat pumps. The HAEevo TECH reversible heat pumps are high efficiency units specifically designed for wine industry, and generally for all process applications when high performance, continuous operation and reduced management costs are the main requirements. The oversized heat exchangers surfaces and optimised scroll compressors ensure high performances, maximising the energy savings. The wide numbers of options available makes the units highly customizable, suitable to satisfying any type of plant solution. All units are compliant with the limits imposed by the ErP regulation for seasonal efficiency ratio SEPR HT and SCOP.
Open the catalog to page 1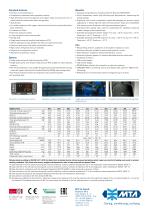 • Single water pump with high head pressure (P5); • Single water pump with medium head pressure (P3) suitable for open hydraulic systems; • Non-Ferrous hydraulic circuit, suitable for aggressive process fluids (finned coil evaporator with copper tubes and fins installed inside the AISI304 water storage tank); • Anti-freeze protection heaters for evaporator and pump (if included); • EC brushless fans. Parametric microprocessor control. HAEevo Tech Nominal cooling capacity (1) Total absorbed power (1) EER (1) Nominal cooling capacity (2) Total absorbed power (2) EER (2) SEPR HT (3) Nominal...
Open the catalog to page 2
All MTA catalogs and technical brochures
Compare up to 10 products