Catalogs

>

MTA

>

HTAURUS TECH
Catalog excerpts
AIR CONDITIONING SYSTEMS COOLING & HEATING HTAURUS Heat pumps featuring hermetic scroll compressors. Nominal cooling capacity 65 - 131 kW Nominal heating capacity 78 – 156 kW Excellence in residential and commercial air-conditioning. The air-cooled heat pumps HTAURUS TECH always meet the requirements of residential and commercial air conditioning applications, through their versatility and easy installation. The HTAURUS TECH range already meets the performance requirements of the ErP Regulation EcoDesign, combining highest level of seasonal efficiency with huge customization possibilities, to allow the installation on every system. Reduced management and installation costs, maximum reliability and environmental protection make heat pumps HTAURUS TECH the right choice for today and tomorrow installations.
Open the catalog to page 1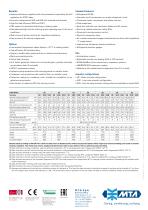 • Crankcase heater compressor and phase-monitor; • High full load efficiency (EER and COP); • Plate evaporator; • DDS system for optimised defrosting in heating mode; • Axial fans with die-cast aluminium blades and AC motors; • Extended working limits for starting up and operating even in the worst • Electrical cabinet protection rating IP54; • Parametric microprocessor control; • Wide choice of options and kits for simplified installation; • Electronic expansion valve; • Easy access to all internal components. • Air-cooled condensers (copper tubes/aluminium fins) with longitudinal • High...
Open the catalog to page 2
All MTA catalogs and technical brochures
Compare up to 10 products