Catalogs

>

MTA

>

LiquiPro
Catalog excerpts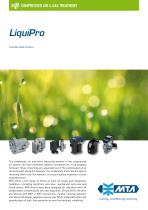 LiquiPro Condensate drains The condensate, oil and other impurities present in the compressed air system can have extremely adverse consequences if not properly removed. These impurities are separated out of the compressed air at various points along the network; the condensate drain has the task of removing them from the network, to ensure quality treatment of your compressed air. MTA offers a full range of drains to meet all needs and installation conditions, including electronic zero-loss, mechanical zero-loss and timed drains. MTA drains have been designed for operation with all condensates, containing all oils and impurities. 50 and 60 Hz versions are offered, with BSP or NPT connections. Careful material selection and advanced design solutions ensure your MTA condensate drain will provide years of fault-free operation in even the harshest conditions.
Open the catalog to page 1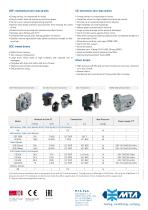 SCE: timed drains • Robust brass housing. • Very compact configuration. • Large drain orifice leads to high reliability with reduced risk of blockages. • Complete with drain test button and shut-off valve. • Stainless steel strainer prevents blockages. • IP65 protection rating. CDF: Mechanical zero-loss drains CE: Electronic zero-loss drains • High pressure (40-50 barg) versions (mechanical zero-loss, electronic zero-loss, timed). • Manual drains. • Mechanical zero-loss drains for fitting inside filter housings. Other drains SCM40: High pressure drains Power supply (**) MECHANICAL ZERO-LOSS...
Open the catalog to page 2
All MTA catalogs and technical brochures
Compare up to 10 products