Catalogs

>

MTA

>

LiquiPure
Catalog excerpts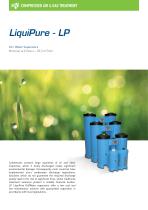 LiquiPure - LP Oil / Water Separators Nominal arif flow 4 – 35,5 m3/min Condensate contains large quantities of oil and other impurities, which if freely discharged create significant environmental damage. Consequently most countries have implemented strict condensate discharge legislations. Solutions which do not guarantee the required discharge quality lead to the risk of significant fines, whilst traditional treatment solutions present a notable financial burden. LP LiquiPure Oil/Water separators offer a low cost and low maintenance solution with guaranteed separation in accordance with local legislations.
Open the catalog to page 1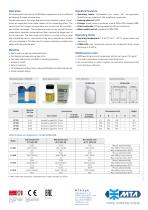 Operating limits • Operating temperature: 1,5-65 °C (for T > 45 °C, performance may decrease). • LP004÷035: max condensate volume per condensate drain single discharge is 0,250 ltr. Maintenance rules • Works with any type od condensate drain. • Can handle and separate any type of oil. • Test valve and test set included for sampling purposes. • Simple to install. • Easy to maintain. • No condensate settling tank is required (therefore no bacteria build-up). • Small compact design. Water quality test kit Filter elements Condensate inlet • 4000 operating hours of compressor with oil carryover...
Open the catalog to page 2
All MTA catalogs and technical brochures
Compare up to 10 products