Catalogs

>

MTA

>

NEPTUNE TECH ME
Catalog excerpts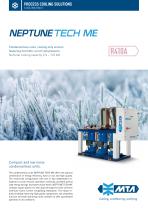 PROCESS COOLING SOLUTIONS COOLING ONLY NEPTUNE Condenserless units, cooling only version featuring hermetic scroll compressors. Nominal cooling capacity 274 – 722 kW Compact and low noise condenserless units. The condenserless units NEPTUNE TECH ME offers the optimal combination of energy efficiency, ease of use and high quality. The multiscroll configuration with one or two independent refrigerant circuits ensures operation continuity, excellent partial load energy savings and lowest noise levels. NEPTUNE TECH ME compact layout allows it to even pass through the most common technical rooms, further simplifying installation. The robust industrial design featuring high quality components, the unloading function and wide operating limits combine to offer guaranteed operation in all conditions.
Open the catalog to page 1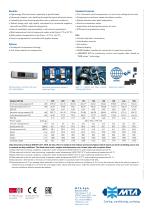 • Compressors crankcase heater and phase monitor; • Unloading function allowing operation even in extreme conditions; • Brazed stainless steel plate evaporators; • Robust design with high quality components by renowned suppliers, • Electronic expansion valves; derived from MTA's industrial background; • Inspections and tests performed on all units; • Ease of installation and accessibility to all internal components; • IP54 electrical protection rating. • Wide temperature limits of evaporator water outlet (from 0 °C to 25 °C); • Wide ambient temperature limits (from -10 °C to +45 °C); • Easy...
Open the catalog to page 2
All MTA catalogs and technical brochures
Compare up to 10 products