Catalogs

>

MTA

>

NEPTUNE TECH
Catalog excerpts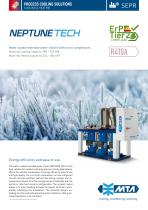 PROCESS COOLING SOLUTIONS COOLING & HEATING NEPTUNE Water cooled reversible water chillers with scroll compressors. Nominal cooling capacity 289 - 752 kW Nominal heating capacity 263 - 686 kW * Energy efficiency and ease of use. The water cooled reversible water chiller NEPTUNE TECH is the best solution for medium and large process cooling applications. Offers the optimal combination of energy efficiency, ease of use and high quality. Up to 6 scroll compressors on two refrigerant circuits ensures excellent partial load energy savings and reduced sound levels. A further energy saving is reachable with the partial or total heat recovery configuration. The compact layout allows it to even handling through the typical technical rooms, greatly simplifying the installation. The industrial design, unloading function and wide operating limits combine to offer guaranteed operation in all conditions. * Data referred to units fitted with heat pump option.
Open the catalog to page 1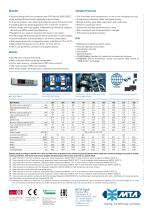 Options • Soundproof compressors housing; • Water side reversible heat pump configuration; • Partial heat recovery - desuperheater (20% heat recovery); • Total heat recovery (100% heat recovery); • Anti-freeze heaters for evaporators, condensers and heat recovery. Microprocessor parametric controller with dual display. NET Models Nominal cooling capacity (1) Total absorbed power (1) EER (2) Nominal cooling capacity (3) Total absorbed power (3) EER (4) SEPR HT (5) Nominal heating capacity (6) (7) Total absorbed power (6) (7) COP (6) (8) SCOP (9) Power supply Circuits / Compressors Sound...
Open the catalog to page 2
All MTA catalogs and technical brochures
Compare up to 10 products