Catalogs

>

MTA

>

OCEAN TECH ME
Catalog excerpts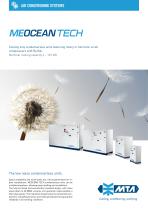 MEOCEAN Cooling only condenserless units featuring rotary or hermetic scroll compressors with R410A. Nominal cooling capacity 4 – 169 kW The low noise condenserless units. Space availability and noise levels are critical parameters for indoor installations. MEOCEAN TECH condenserless units can be installed anywhere, allowing easy handling and installation. The fully enclosed and acoustically insulated design, with noise levels down to 30 dB(A), ensures unit operation imperceptible in the living spaces. The industrial design featuring renowned components, unloading function and wide operating limits guarantee reliability in all working conditions.
Open the catalog to page 1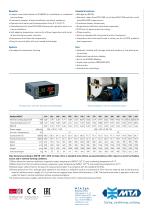 • Operates with water outlet temperatures from 0 °C to 20 °C; • Crankcase heater compressor; • Unloading function (mod.200-600) allowing unit operation even in ex- • Single brazed stainless steel plate evaporator; treme conditions; • IP22 electric panel protection rating; • Self-adaptive temperature control for efficient operation with installations having low water contents; • Phase monitor; • Factory charged with refrigerant and non-freezing oil; • Easy access to all internal components; • Inspections and tests performed in factory as for all MTA products • Easy to use controller with...
Open the catalog to page 2
All MTA catalogs and technical brochures
Compare up to 10 products