Catalogs

>

MTA

>

TAEevo LWT
Catalog excerpts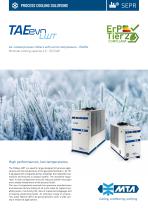 PROCESS COOLING SOLUTIONS Air-cooled process chillers with scroll compressors - R449A. Nominal cooling capacity 4,5 - 52,5 kW High performances, low temperatures. The TAEevo LWT is a specific range designed for process applications with low temperature of the glycolate fluid (up to -24 °C). If equipped with integrated pump, simplifies the installation op erations and ensures a compact system. The innovative evaporator-in tank configuration ensures reduced ambient heat gain and a steady temperature of the process fluids. The use of components sourced from premium manufacturers and extensive factory testing of all units make for highest reliability levels, minimising the risks of unplanned stoppages and increasing productivity levels. An extensive range of accessories, allow TAEevo LWT to be personalised to cover a wide variety of industrial applications.
Open the catalog to page 1
Options • Hydraulic circuit configurations: SP (without pump) and P3 pump (3 barg - optional); • Version with painted fins against corrosion; • Non Ferrous option. Versions • Version for low environmental temperature -20 °C. Kits • Manual filling tank kit: suitable for hydraulic circuits at atmospheric pressure; • Remote ON/OFF kit and remote control kit (max 150 m); • Remote control kit VICX620 display LED, VGI890 display LCD (max 150 m); • Adapter kit for remote control VICX620 and VGI890 (necessary for mod. 381-802); • Supervisor kits: RS485 ModBus, xWEB300D EVO; • Modularity kit: up to...
Open the catalog to page 2
All MTA catalogs and technical brochures
Compare up to 10 products