Catalogs

>

MTA

>

TAEevo TECH MINI
Catalog excerpts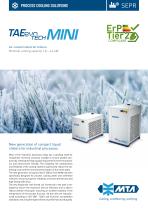 PROCESS COOLING SOLUTIONS Air-cooled industrial chillers. Nominal cooling capacity 1,8 – 4,4 kW New generation of compact liquid chillers for industrial processes. Most of the industrial processes today has a growing need for competitive technical solutions suitable to ensure greater productivity, meeting the high quality requirements of the final product and environment friendly. The reliability, the compactness and flexibility of the cooling systems significantly reduce the operating costs and the environmental impact of the entire plant. The new generation of liquid chillers TAEevo Tech MINI has been specifically designed for process cooling water and antifreeze mixtures, ensuring superior reliability, minimum dimensions and high energy efficiency. The new evaporator with finned coil immersed in the tank is designed to ensure the maximum level of efficiency and is able to reduce ambient heat gain, ensuring an excellent stability of the temperature of the process fluid too. All the units are manufactured according to ISO 9001, 14001 and Eurovent accreditation standards, ensuring the highest levels of performance and quality.
Open the catalog to page 1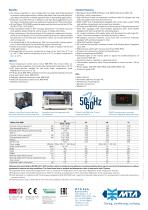 • Close temperature control version (mod. M08-M10): this version offers extremely precise regulation of the outlet water temperature (hysteresis ± 0,5 °C); • LWT brine version: suitable for low outlet water temperature (mod. M08-M10): (Tw out min=-5 °C); • P5 Pump (mod. M08-M10): peripheral non ferrous pump (5 barg head pressure); • Tank level switch (mod. M08-M10); • Multipole industrial connector (mod. M08-M10); • Hydraulik disconnect system (mod. M08-M10); • Stainless steel frame. Hydraulic circuit Non Ferrous main-tains maximum cleanliness of the process fluid. Innovative finned coil...
Open the catalog to page 2
All MTA catalogs and technical brochures
Compare up to 10 products