Catalogs

>

ADAM-CellT
Catalog excerpts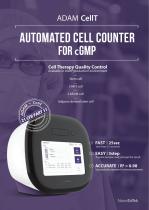 ADAM CellT Stem cell CAR-T cell CAR-NK cell Adipose-derived stem cell ADAM CellT 01 FAST | 25sec Less than 25 seconds. Prepare sample, load, and get the result. Substantially eqivalent to hemocytometer.
Open the catalog to page 1
Data Management ADAM-CellT complies with 21 CFR part 11 which is a regulation about electronic records and signatures for use in cGMP facilities. When 21 CFR Part 11 mode is activated, data cannot be modified by any user. Every action of users is recorded in an audit trail which includes the date, time, and specific details of the action. User Login User management Check electronic records Access level and rights of users A Validation of ADAM-CellT ADAM calibration beads allow quick diagnosis when problems occur. Additionally, it reduces anxiety of customers by checking the accuracy of the...
Open the catalog to page 2
All NanoEntek catalogs and technical brochures

Compare up to 10 products