Catalogs

>

ADAM-rWBC2 Brochure
Catalog excerpts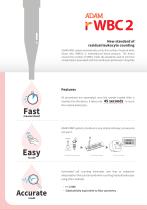 New standard of residual leukocyte counting ADAM-rWBC system automatically counts the number of residual white blood cells (rWBCs) in leukoreduced blood products. The device ensures the number of rWBCs meets the standards used to minimize complications associated with the transfusions performed in hospitals. Features All procedures are automated once the sample loaded slide is inserted into the device. It takes only 45 SGCOndS to count the residual leukocytes. ADAM-rWBC system procedure is very simple and easy, so everyone can use it. Automated cell counting eliminates user bias or...
Open the catalog to page 4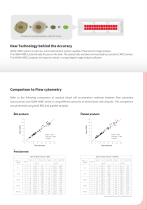 New Technology behind the Accuracy ADAM-rWBC system is a precise, automated optical system capable of fluorescent image analysis. The ADAM-rWBC2 automatically focuses on the slide. The stained cells are taken and recorded by a sensitive CMOS camera. The ADAM-rWBC2 analyzes and reports a result in using integral image analysis software. Refer to the following comparison of residual blood cell enumeration methods between flow cytometry (Leucocount) and ADAM-rWBC series in using different amounts of white blood cells aliquots. This comparison was performed using both RBC and platelet samples....
Open the catalog to page 5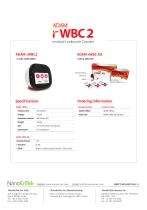 ADAM 2 residual Leukocyte Counter Catalog Number Product Name Analysis time Detection method 4W Green LED Data export Standard bead 50 pcs (Loading sample volume: 100 pL/test) NanoEnTek I website I www.nanoentek.com le-maill ivdst@nanoentek.com NESCT-AR2-001 E(V.0.1) 12F, 5, Digital-ro 26 gil, Guro-gu, 851-14, Seohae-ro, Paltan-myeon,Seoul, 08389, Korea Hwaseong-si, Gyeonggi-do, 18531, Korea Tel: +82-2-6220-7942 Fax:+82-2-6220-7999 240 Bear Hill Road, Suite 101, Waltham, MA 02451, USA Tel: +1-781-472-2558 Fax: +1-781-790-5649
Open the catalog to page 6
All NanoEntek catalogs and technical brochures

Compare up to 10 products