Catalogs

>

ADAM SCC
Catalog excerpts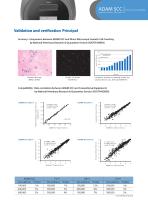 ADAM SCC Automatic Somatic Cell Counter Better way to check milk quality Validation and verification Principal Accuracy: Comparison between ADAM-SCC and Direct Microscopic Somatic Cell Counting by National Veterinary Research & Quarantine Service (SOUTH KOREA) Correlation between 12 standard somatic cell solution (Eastern Lab., USA) and ADAM-SCC Compatibility: Data correlation between ADAM-SCC and Conventional Equipments by National Veterinary Research & Quarantine Service (SOUTH KOREA)
Open the catalog to page 2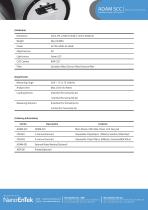 Light source Green LED [Experiment] Measuring range 0.05 ~ 1.15 x 10 cells/mL Analysis time Max 2.5min for4tests Loading Volume 20ul/test (For Somachip 2x) 12ul/test (For Somachip 4x) Measuring Volumen 8.5ul/test (For Somachip 2x) ADAM-SCC ADAM-SCC Main Device, USB cable, Power cord, Key pad CRS-K02 4 channel Soma kit Disposable Chips(1 OOpcs, 400tests), Solution(400x1 OOul) ADAM-001 External Video Monitor(Optional) sales@nanoentek.com jwebsitel www.nanoentek.com NanoEnTek Inc. (HQ) 2F, 5, Digital-ro 26-gil,Guro-gu, Seoul, 08389, Korea Tel: +82-2-6220-7940, Fax...
Open the catalog to page 3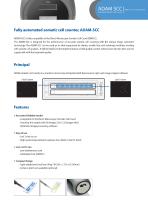 Fully automated somatic cell counter, ADAM-SCC ADAM-SCC is fully compatible to the Direct Microscopic Somatic Cell Count (DMSCC). The ADAM-SCC is designed for the performance of accurate somatic cell counting with the unique image cytometer technology. The ADAM-SCC can be used as an ideal equipment for dairies, smaller labs and veterinary institutes working with somatic cell analysis. It will be helpful to the implementation of milk quality control, which favors farmers who want to supply milk with the improved quality. Features > Accurate & Reliable results - Compatible to the Direct...
Open the catalog to page 4
All NanoEntek catalogs and technical brochures

Compare up to 10 products