Catalogs

>

JuLI™ Br Counting
Catalog excerpts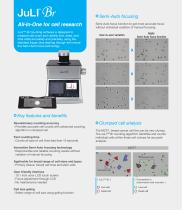 JuLI'$r All-In-One for cell research JuLI™ Br Counting software is designed to measure cell count and viability (live, dead, and total cells) accurately and precisely, using the standard trypan blue staining through the innovative Semi-Auto focus technology. o Semi-Auto focusing Semi-Auto focus function to get more accurate focus without individual variation of manual focusing. o Key features and benefits Revolutionary counting accuracy : Provides accurate cell counts with advanced counting algorithm in clumped cell Fast counting time : Counts all type of cell lines less than 10 seconds Innovative Semi-Auto focusing technology : Reproducible and reliable counting results without variation of manual focusing Applicable for broad range of cell sizes and types : Primary (tissue, blood) cell lines and stem cells User friendly interface : 10.1 inch color LCD touch screen : Focus adjustment through LCD : No maintenance needed Cell size gating : Select range of cell size using gating function o dumped ceii analysis The MCF7, breast cancer cell line can be very clumpy. The JuLI™ Br counting algorithm identifies and counts individual cells within these cell clumps for accurate analysis.
Open the catalog to page 1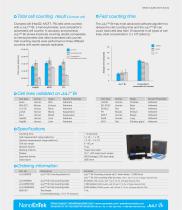 o Total cell counting result (clumped ceii) Clumped cell (HepG2, MCF7, F9) cells were counted with a JuLI™ Br, a hemocytometer, and competitor's automated cell counter. In accuracy and precision, JuLI™ Br shows improved counting results comparable to hemocytometer and other automated cell counter. Cell counting results were performed on three different counters with seven sample replicates. o Fast counting time The JuLI™ Br has most advanced software algorithm to reduce the cell counting time and the JuLI™ Br can count total cells less than 10 seconds in all types of cell lines. (Cell...
Open the catalog to page 2
All NanoEntek catalogs and technical brochures

Compare up to 10 products