Catalogs

>

NIS-Elements
Catalog excerpts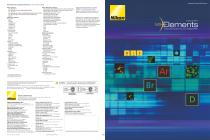 Imaging Software NIS-Elements NIS-Elements Supported Devices (ver. 3.22 or later) Nikon Microscope Devices Nikon Cameras Biological Microscope TE2000 (Perfect Focus System), Ti (HUB-A/B) CCU: DS-U1/L1*2 Biological Microscope 90i (ND fiter, Stage), 80i, DIH-E/M, C-Box, (for camera head DS-2Mv/2MBW/2MBWc/5M/5Mc) Biological Microscopes Ni-E/Ni-U, Ci-E CCU: DS-U2/L2 (for camera head DS-2Mv/Vi1/2MBW/2MBWc/5M/5Mc/Fi1/Fi1c/Qi1/Ri1) Fixed-stage Microscope FN1 + DIH Multizoom Microscope AZ100M CCU: DS-U3/L3*3(for camera head DS-Vi1/Fi1/Fi1c/Qi1/Ri1/Fi2) Industrial Microscope LV Series DQC-FS*2 Measuring Microscope MM-400/800*2 Third-party Cameras Metallographic Microscope MA200 Photometrics Inspection Microscopes L200N/L300N Evolve Fiber Illuminator Intensilight QuantEM Laser Module LU4A, Shutter Unit LUSU, AOM Unit CoolSNAP HQ2 *2 LV NCNT Nosepiece controller CoolSNAP ES *2 D-FL-E Cascade 128+ *2 LUSU Cascade II 512 *2 AOM Cascade 1K LU4A Andor Technology Ni-SH-CON Luca S, Luca R iXon+ 897, 888, 885 Third-party Devices Prior Scientific iXon X3 ProScan III (H31) iXon Ultra ProScan II (H30) iKon-M Prior PCI II Clara OptiScan II ES10 Neo sCMOS NZ100, nanoStageZ QImaging Prior ES10ZE Retiga EXi Aqua/Blue Prior NIKRFK Retiga 2000R - Mono/Color Ludl Electronic Products Retiga SRV + RGB-HM-S Slide MAC5000, MAC6000 Rolera EMC2 Märzhäuser Wetzlar QICLick TANGO Desktop, Tango PCI QICAM LSTEP, ECO-STEP Hamamatsu Vincent Associates (Uniblitz) magEM C9100-13 VCM-D1 ImagEM-1K Sutter Instrument ORCA-R2 Lambda 10-2, 10-3, SC, 10-B, XL ORCA-Flash 2.8 Physical Instrument ORCA-Flash 4.0 PI E-662, 665 (RS232) ORCA-D2 Photometrics ORCA (DCAM) Dual View C9100-02, C9100-12 EXFO Imaging Source EXFO XCite120 Converter DFG/1394 ASI (Applied Scientific Instrumentation) Others *2 MS-2000 TWAIN Device FW-1000 SC-2000 National Instruments TTL Input/Output (NI Card) Supported Operation System Windows 7 Professional (32/64 bit Version) Windows Vista Business SP2 (32/64 bit up to Version 3.22) Windows XP Professional SP3 (32 bit up to Version 3.22) NIS-Elements is compatible with all common file formats, such as JP2, JPG, TIFF, BMP, GIF, PNG, ND2, JFF, JTF, AVI, ICS/IDS. ND2 is a special format for NIS-Elements. ND2 allows storing sequences of images acquired during nD experiments. It contains information about the hardware settings and the experiment conditions and settings. *1 Only compatible with Windows XP *2 Not compatible with 64 bit version OS *3 Not compatible with Windows Vista N.B. Export of the products* in this catalog is controlled under the Japanese Foreign Exchange and Foreign Trade Law. Appropriate export procedure shall be required in case of export from Japan. *Products: Hardware and its technical information (including software) Monitor images are simulated. Company names and product names appearing in this brochure are their registered trademarks or trademarks. TO ENSURE CORRECT USAGE, READ THE CORRESPONDING MANUALS CAREFULLY BEFORE USING YOUR EQUIPMENT. Specifications and equipment are subject to change without any notice or obligation on the part of the manufacturer. March 2013 ©2006-13 NIKON CORPORATION NIKON CORPORATION Shin-Yurakucho Bldg., 12-1, Yurakucho 1-chome, Chiyoda-ku, Tokyo 100-8331, Japan phone:+81-3-3216-2384 fax:+81-3-3216-2388 http://www.nikon.com/instruments/ NIKON INSTRUMENTS INC. 1300 Walt Whitman Road, Melville, N.Y. 11747-3064, U.S.A. phone: +1-631-547-8500; +1-800-52-NIKON (within the U.S.A. only) fax: +1-631-547-0306 http://www.nikoninstruments.com/ NIKON METROLOGY, INC. 12701 Grand River Avenue, Brighton, MI 48116 U.S.A. phone: +1-810-220-4360 fax: +1-810-220-4300 E-mail: sales_us@nikonmetrology.com http://us.nikonmetrology.com/ http://www.nikoninstruments.com/ NIKON INSTRUMENTS EUROPE B.V. Tripolis 100, Burgerweeshuispad 101, 1076 ER Amsterdam, The Netherlands phone: +31-20-7099-000 fax: +31-20-7099-298 http://www.nikoninstruments.eu/ NIKON METROLOGY EUROPE NV Geldenaaksebaan 329, 3001 Leuven, Belgium phone: +32-16-74-01-00 fax: +32-16-74-01-03 E-mail: sales_europe@nikonmetrology.com http://www.nikonmetrology.com/ NIKON INSTRUMENTS (SHANGHAI) CO., LTD. CHINA phone: +86-21-6841-2050 fax: +86-21-6841-2060 (Beijing branch) phone: +86-10-5831-2028 fax: +86-10-5831-2026 (Guangzhou branch) phone: +86-20-3882-0552 fax: +86-20-3882-0580 Printed in Japan (1303-06)T NIKON SINGAPORE PTE LTD SINGAPORE phone: +65-6559-3618 fax: +65-6559-3668 NIKON MALAYSIA SDN BHD MALAYSIA phone: +60-3-7809-3688 fax: +60-3-7809-3633 NIKON INSTRUMENTS KOREA CO., LTD. KOREA phone: +82-2-2186-8400 fax: +82-2-555-4415 NIKON INDIA PRIVATE LIMITED INDIA phone: +91-124-4688500 fax: +91-124-4688527 NIKON CANADA INC. CANADA phone: +1-905-602-9676 fax: +1-905-602-9953 NIKON INSTRUMENTS S.p.A. ITALY phone: +39-055-300-96-01 fax: +39-055-30-09-93 NIKON AG SWITZERLAND phone: +41-43-277-28-67 fax: +41-43-277-28-61 NIKON GMBH AUSTRIA AUSTRIA phone: +43-1-972-6111-00 fax: +43-1-972-6111-40 NIKON BELUX BELGIUM phone: +32-2-705-56-65 fax: +32-2-726-66-45 NIKON UK LTD. UNITED KINGDOM phone: +44-208-247-1717 fax: +44-208-541-4584 NIKON METROLOGY UK LTD. UNITED KINGDOM phone: +44-1332-811-349 fax: +44-1332-639-881 E-mail: sales_uk@nikonmetrology.com NIKON FRANCE S.A.S. FRANCE phone: +33-1-4516-45-16 fax: +33-1-4516-45-55 NIKON METROLOGY SARL FRANCE phone: +33-1-60-86-09-76 fax: +33-1-60-86-57-35 E-mail: sales_france@nikonmetrology.com NIKON GMBH GERMANY phone: +49-211-941-42-20 fax:+49-211-941-43-22 NIKON METROLOGY GMBH GERMANY phone: +49-6023-91733-0 fax: +49-6023-91733-229 E-mail: sales_germany@nikonmetrology.com This brochure is printed on recycled paper made from 40% used material.
Open the catalog to page 1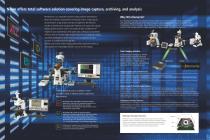 Nikon offers total software solution covering image capture, archiving, and analysis NIS-Elements is an integrated software imaging platform developed by Nikon which delivers comprehensive microscope control, image capture, documentation, image analysis and data management. NIS-Elements handles multidimensional imaging tasks flawlessly with support for capture, display, peripheral device control, and analysis & data management of Why NIS-Elements? As a leading microscope manufacturer, Nikon realizes the importance of providing its customers with system-based solutions to free them to focus...
Open the catalog to page 2
All Nikon Instruments catalogs and technical brochures

Archived catalogs

Compare up to 10 products