Catalogs

>

Infant Incubator - YP-800C
Catalog excerpts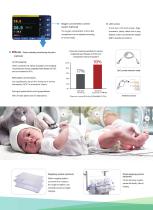 Oxygen concentration control system (optional) The oxygen concentration in the infant compartment can be adjusted according to clinical needs. ■ LCD screen 9-inch color LCD touch screen, large characters, clearly visible from a long distance, which is convenient for medical staff to operate and observe. ■ ©MASiMO Pulse oximetry monitoring function (optional) CCHD screening When combined with clinical evaluation, the sensitivity of screening for severe congenital heart disease (CCHD) can be increased to 93%. Retinopathy of prematurity Can significantly reduce the incidence of severe...
Open the catalog to page 2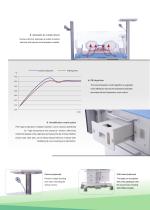 Automatic air curtain device Double wall hood, automatic air curtain to reduce heat loss and keep the air temperature constant. ■ PID algorithm The core temperature control algorithm is upgraded, which effectively reduces the temperature fluctuation and makes the bed temperature more uniform. ■ Humidification control system PES high temperature resistant material, can be directly disinfected by "high temperature and pressure" method, effectively control the bacteria in the water tank and reduce the risk of cross infection; Drawer type water tank, can be easily disassembled by medical staff,...
Open the catalog to page 3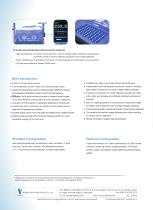 232.5 ■ Double side phototherapy treatment function (optional) Upper phototherapy: Full-touch visual operation, with two working modes: countdown and sequence; Use PWM control to achieve stepless adjustment of blue light brightness. Nether phototherapy: Embedded bed structure to make cleaning and maintenance more convenient. LED light source effective lifespan 50000 hours. Brief Introduction • 9-inch LCD color touch screen; • Two temperature control modes: air mode and baby mode; • Double skin temperature sensor monitoring system effectively reduces the temperature fluctuation to keep a...
Open the catalog to page 4
All Ningbo David Medical Device catalogs and technical brochures

Compare up to 10 products