Catalogs

>

Infant Radiant Warmer - HKN-93C
Catalog excerpts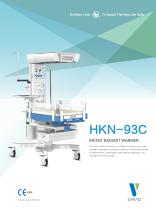 Endless Love To Guard The New Life Safe HKN-93C INFANT RADIANT WARMER The infant radiant warmer is a radiant warming, open type incubator intended to provide an optimum clinical environment for observation, examination, temperature regulation, and management of neonates.
Open the catalog to page 1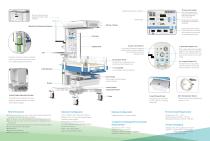 Three control modes: Multiple Failure Alarm Indications Warmer module could be rotated horizontally in both directions. Pre-warm mode control, manual mode control and baby mode control by micro-computer. APGAR timer Set temperature and baby temperature are displayed separately Warmer Module Bilirubin Phototherapy Equipment Masimo pulse blood oxygen monitoring function,to provide more professiona monitoring of neonatal physical signs. Suction Unit (Venturi ) Scaffold Pole T-piece Resuscitator Unit Using Venn's pneumatic negative pressure suction device professional for the cleaning of...
Open the catalog to page 2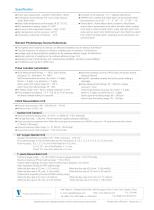 input requirement:AC220V~230V/50Hz, 750VA Control Mode: Pre-warm mode, Manual mode, Baby mode ● Baby mode temperature control range: 34.5℃-37.5℃ ● Skin temperature display range: 5℃-65℃ ● Accuracy of skin temperature sensor: within ±0.2℃ ● Skin temperature control accuracy: ≤0.5℃ ● Temperature uniformity of mattress: ≤2℃ of the bassinet: ±12°Stepless Adjustment timer: audible and visible alarm will be activated when the equipment runs to 50"~1', 4'50"~5', 9'50"~10' ● Failure alarm: Power failure alarm, set alarm, check alarm, sensor alarm, temperature over alarm, deviation alarm, system...
Open the catalog to page 3
All Ningbo David Medical Device catalogs and technical brochures

Compare up to 10 products