Catalogs

>

Nonin

>

Capnography Use in Homecare
Catalog excerpts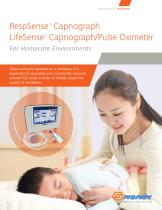 capnography solutions RespSense Capnograph LifeSense Capnograph/Pulse Oximeter ™ For Homecare Environments When caring for patients on a ventilator, it is important to accurately and consistently measure exhaled CO2 levels in order to reliably assess the quality of ventilation.
Open the catalog to page 1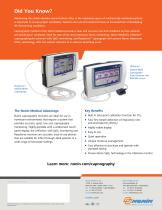 Did You Know? Monitoring the carbon dioxide concentrations (CO2) in the respiratory gases of mechanically ventilated patients is important to ensure proper ventilation. Patients who are not monitored have an increased risk of developing life-threatening conditions. Capnography monitors from Nonin Medical provide a clear and accurate real-time feedback on how patients are breathing or ventilated. Ideal for spot-check and continuous EtCO2 monitoring, Nonin Medical's LifeSense® capnograph/pulse oximeter with SpO2 monitoring, and RespSense™ capnograph with proven Nonin sidestream EtCO2...
Open the catalog to page 2
All Nonin catalogs and technical brochures

Archived catalogs

Compare up to 10 products