Catalogs

>

Nonin

>

Nonin Medical's "Bullet-Proof" 8000AA Reusable Pulse Oximetry Sensors Meet the Challenge in EMS
Nonin Medical's "Bullet-Proof" 8000AA Reusable Pulse Oximetry Sensors Meet the Challenge in EMS


2

Pages
Catalog excerpts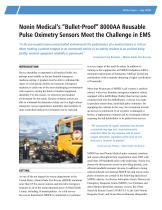 White Paper • July 2009 Nonin Medical's "Bullet-Proof" 8000AA Reusable Pulse Oximetry Sensors Meet the Challenge in EMS "In the pre-hospital arena (uncontrolled environment) the performance of a medical device is critical. When treating a patient trapped in an overturned vehicle or an elderly resident in an assisted living facility, medical equipment reliability is paramount." Lieutenant Joe Prendes – Miami-Dade Fire-Rescue INTRODUCTION Device durability is important in all medical fields, but perhaps most notably in the pre-hospital emergency medicine setting. A product must be able to withstand the rigors of a fast-paced, mobile environment. Emergency medicine is easily one of the most challenging environments with respect to testing the limits of medical equipment durability. For this reason, we selected a pre-hospital environment for this study. If pulse oximeter sensors are able to withstand the demands of daily use in a high-volume emergency rescue organization, durability and resilience in more controlled medical environments can be expected. in every aspect of fire and life safety. In addition to training in fire suppression, all MDFR firefighters fulfill a minimum requirement of Emergency Medical Technician certification, with a majority obtaining a higher certification of Paramedic. More than 80 percent of MDFR's call volume is medical related, with every frontline emergency response vehicle equipped with a defibrillator. Rather than having a pulse oximeter built into the defibrillators, a choice was made to purchase stand-alone, hand-held pulse oximeters. By equipping the vehicles in this way, the investment in backup devices is minimized. If an oximeter is damaged or broken, a replacement oximeter can be exchanged without requiring the full defibrillator to be pulled from service. "The assessment of oxygen saturation has become a standard vital sign tool. Stand-alone pulse oximeters allow for any response unit to assess oxygen saturation, regardless of the level of care that unit is 'licensed' to provide." Lieutenant Joe Prendes – Miami-Dade Fire-Rescue SETTING As one of the ten largest fire-rescue departments in the United States, Miami-Dade Fire Rescue (MDFR) maintains more than 65 fire-rescue stations and provides emergency response to all of the unincorporated areas of Miami-Dade County, including 30 municipalities. As a full service fire-rescue department, MDFR is committed to excellence MDFR has used Nonin Medical pulse oximetry monitors and sensors throughout their organization since 2002 with more than 250 handheld units in the field today. Nonin was chosen for their proven record in providing durable, costefficient handheld oximeter devices. In addition to being carried onboard conventional MDFR fire and rescue units, pulse oximeters are carried on the following specialized MDFR vehicles: Air Rescue helicopters (four), Motorcycle Emergency Response Teams (MERT), two Fireboats and other Marine Operations response vessels, the Urban Search & Rescue Team (USAR-FLT-1), the Anti-Venom Response Team, and Ocean Rescue Bureaus (lifeguards).
Open the catalog to page 1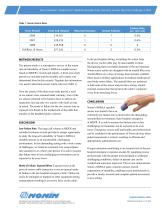 Nonin Medical's "Bullet-Proof" 8000AA Reusable Pulse Oximetry Sensors Meet the Challenge in EMS Table 1: Sensor Return Rates Failure Rate Time Period Total Call Volume Returned Sensors Sensor Failures METHODS/RESULTS The present study is a retrospective review of the return rate and durability of Nonin's 8000AA reusable sensor based on MDFR's records and reports. A three-year study period was included and the monthly call volume was determined from facility records. Together this information was used to determine sensor return rates (see Table 1). Over the course of the three-year study...
Open the catalog to page 2
All Nonin catalogs and technical brochures

Archived catalogs

Compare up to 10 products