Catalogs

>

Nonin

>

Onyx® in the Hospital Setting: a Six Month Study
Catalog excerpts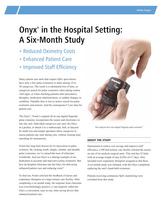 White Paper Onyx in the Hospital Setting: A Six-Month Study ® • Reduced Oximetry Costs • Enhanced Patient Care • Improved Staff Efficiency Many patient care units that require SpO2 spot-checks have only a few pulse oximeters to share among 10 to 30 caregivers. The result is a substantial loss of time, as caregivers search for pulse oximeters when taking routine vital signs, or when checking patients after procedures, therapies, medication administration, or sudden changes in condition. Valuable time is lost as nurses search for pulse oximeters and sensors. And the consequence? Less time for patient care. The Onyx®, Nonin's original all-in-one digital fingertip pulse oximeter, incorporates the sensor and electronics in one tiny unit. Individual caregivers can carry the Onyx in a pocket, or attach it to a stethoscope, belt, or lanyard. Its small size and simple operation allow caregivers to assess patients any time during care, without wasting time searching for instruments. The original all-in-one digital fingertip pulse oximeter™ About the Study Nonin has long been known for its innovation in pulse oximetry. By creating small, simple, reliable, and durable pulse oximeters, we've earned the trust of clinicians worldwide. And our Onyx is a shining example of our dedication to accurate and innovative pulse oximeters. But how do hospital clinicians rate the Onyx for delivering enhanced patient care and reducing costs? Determined to realize cost savings and improve staff efficiency, a 500 bed tertiary care facility enlisted the nurses on one of its medical-surgical units. This unit has 32 beds with an average length of stay (LOS) of 4.7 days. Also included were respiratory therapists assigned to that floor. A six-month study was initiated, with the Onyx completely replacing the unit's hand-held oximeters. To find out, Nonin solicited the feedback of nurses and respiratory therapists at a large tertiary care facility. After completing a six-month study, the response from clinicians was overwhelmingly positive: a vast majority called the Onyx a convenient, easy-to-use, time-saving device that enhanced patient care. Patients receiving continuous SpO2 monitoring were excluded from this study.
Open the catalog to page 1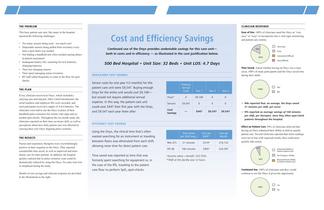 The Problem Clinician Response This busy patient care unit, like many in the hospital, reported the following challenges: Ease of Use. 100% of clinicians rated the Onyx as "very easy" or "easy" to incorporate into a vital signs monitoring and patient care routine. • Too many sensors being used – too much cost! • Disposable sensors being pulled from inventory every time a spot-check was needed • Not finding a handheld unit when needed causing delays in patient assessment • Inadequate battery life; searching for new batteries, changing batteries • Time lost changing sensors • Time spent...
Open the catalog to page 2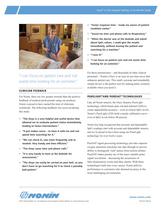 Onyx® in the Hospital Setting: A Six-Month Study • "Faster response time – made me aware of patient condition earlier." • "Saved me time and phone calls to Respiratory." • "When the doctor was at the bedside and asked about SpO2 values, I could give the results immediately, without leaving the patient and searching for a machine." • "I love it!" • "I can focus on patient care and not waste time looking for an oximeter." "I can focus on patient care and not waste time looking for an oximeter." Clinician Feedback For Nonin, there are few greater rewards than the positive feedback of medical...
Open the catalog to page 3
All Nonin catalogs and technical brochures

Archived catalogs

Compare up to 10 products