Catalogs

>

Nonin

>

Onyx II, Model 9560 Brochure
Catalog excerpts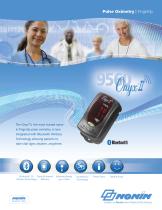 Pulse Oximetry | Fingertip The Onyx®II, the most trusted name in fingertip pulse oximetry, is now integrated with Bluetooth Wireless Technology allowing patients to take vital signs anytime, anywhere. Bluetooth® 2.0 Store & Forward Memory Wireless Technology SmartPoint Technology Power Saver Patient Proof
Open the catalog to page 1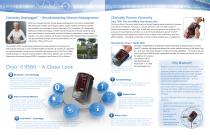 Oximetry Unplugged – Revolutionizing Disease Management TM With the increased need for remote disease management, the Onyx II, Model 9560 with Bluetooth® wireless technology provides a pulse oximetry monitoring solution that simplifies the exchange of secure information. The integration of interoperable, Bluetooth wireless technology in health monitoring devices will allow patients, along with their clinicians, to more easily monitor vital signs in environments never before possible. As a result, patients will be able to go about their daily activities and send their vital data wirelessly...
Open the catalog to page 2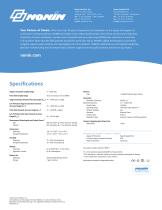 13700 1st Avenue North Plymouth, MN • 55441-5443 • U.S.A. Tel: +1.763.553.9968 1.800.356.8874 Fax: +1.763.577.5521 E-mail: info@nonin.com Your Partner of Choice. With more than 20 years of experience and dedication to the design and support of noninvasive monitoring devices, NONIN has helped many medical professionals meet clinical and economic objectives. Trusted by clinicians worldwide, countless tests are performed every day using NONIN pulse oximeters in more than 125 countries. More than 90 OEM partners around the world also rely on NONIN's digital technology to successfully integrate...
Open the catalog to page 3
All Nonin catalogs and technical brochures

Archived catalogs

Compare up to 10 products