Catalogs

>

Nonin

>

SenSmart 8100 Soft SpO2 Sensor
Catalog excerpts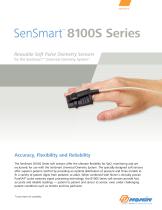 Reusable Soft Pulse Oximetry Sensors for the SenSmart ™ Universal Oximetry System* Accuracy, Flexibility and Reliability The SenSmart 8100S Series soft sensors offer the ultimate flexibility for SpO2 monitoring and are exclusively for use with the SenSmart Universal Oximetry System. The specially designed soft sensors offer superior patient comfort by providing an optimal distribution of pressure and three models to fit a variety of patient digits from pediatric to adult. When combined with Nonin's clinically proven PureSAT® pulse oximetry signal processing technology, the 8100S Series soft sensors provide fast, accurate and reliable readings — patient to patient and sensor to sensor, even under challenging patient conditions such as motion and low perfusion. *Contact Nonin for availability.
Open the catalog to page 1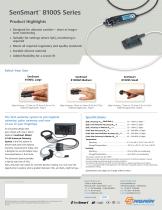 [product 8100S SenSmart name] Series ™ Product Highlights ¡ Designed for ultimate comfort – short or longer term monitoring Suitable for settings where SpO2 monitoring is required Meets all required regulatory and quality standards Durable silicone material Added flexibility for a secure fit Select Your Size SenSmart 8100SL Large Digit thickness: 12.5mm to 25.5mm (0.5in to 1in) Preferred application: Fingers Digit thickness: 10mm to 19mm (0.4in to 0.75in) Preferred application: Fingers Digit thickness: 7.5mm to 12.5mm (0.3in to 0.5in) Preferred application: Fingers The first oximetry system...
Open the catalog to page 2
All Nonin catalogs and technical brochures

Archived catalogs

Compare up to 10 products