Catalogs

>

Nonin

>

System Story Brochure
Catalog excerpts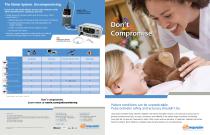 The Nonin System. Uncompromising. If you mix and match Nonin sensors and oximeters with other manufacturers' products, you risk: PalmSAT® 2500 Handheld Pulse Oximeter with 8000AA Clip Sensor Under-reporting hypoxic events due to inaccuracy, which could result in: n Missed episodes of hypoxia during continuous monitoring n Qualified patients being incorrectly disqualified for oxygen therapy n Under or missed treatment for hypoxic events n Increased false alarms l Having to repeat diagnostic studies (and incur related costs) due to signal drop out or excessive noise l Don't Compromise 7500 Tabletop Pulse Oximeter with 6000CI Cloth Sensor * Requires adapter for use with WristOx2™, Model 3150 Don't compromise. Learn more at nonin.com/pulseoximetry. References: On File at Nonin Medical. QATR 8155 2 Nonin Technical Bulletin M-5407, based on "Dark skin decreases the accuracy of pulse oximeters at low oxygen saturations: effects of oximeter probe type and gender," John Feiner, et al. Anesthesia and Analgesia, December, 2007. 3 On File at Nonin Medical. QATR 8814 4 On File at Nonin Medical. QATR 8814 1 13700 1st Avenue North Plymouth, MN • 55441-5443 • U.S.A. Tel: +1.763.553.9968 1.800.356.8874 Fax: +1.763.577.5521 E-mail: info@nonin.com nonin.com ©2013 Nonin Medical, Inc. All trademarks are the property of Nonin Medical, Inc. unless otherwise noted. P/N 8455-001-02 Patient conditions can be unpredictable. Pulse oximeter safety and accuracy shouldn't be. Using Nonin PureSAT® pulse oximeters together with Nonin PureLight® sensors is the only way to ensure you're getting clinically proven SpO2 accuracy, consistency and reliability in the widest range of patients and settings. From light skin to dark skin. Neonates to adults. With motion and low perfusion. In sleep labs, hospitals and homes. Patient to patient, Nonin Medical's complete pulse oximetry systems are uncompromising.
Open the catalog to page 1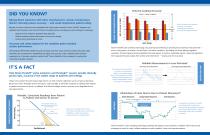 DID YOU KNOW? Beware of sensors claiming to be compatible with Nonin pulse oximeters. Nonin PureSAT oximeters are validated and cleared for use only with Nonin PureLight sensors, providing accurate readings for assessing: • Hypoxia events related to potential sleep disorders • Patients needing critical intervention in acute care settings • Patients being monitored at home Masimo Nellcor NONIN n Nonin n Nellcor n Masimo Mixing Nonin oximeters with other manufacturers' sensors compromises Nonin's clinically proven accuracy — and could compromise patient safety. Dark Skin Pigmentation Less...
Open the catalog to page 2
All Nonin catalogs and technical brochures

Archived catalogs

Compare up to 10 products