Catalogs

>

Nonin

>

WIDESCREEN Pulse Oximeter
Catalog excerpts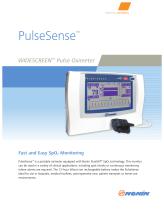 tabletop oximetry WIDESCREEN™ Pulse Oximeter Fast and Easy SpO2 Monitoring PulseSense™ is a portable oximeter equipped with Nonin PureSAT® SpO2 technology. This monitor can be used in a variety of clinical applications, including spot checks or continuous monitoring where alarms are required. The 12-hour lithium ion rechargeable battery makes the PulseSense ideal for use in hospitals, medical facilities, post-operative care, patient transport or home-use environments.
Open the catalog to page 1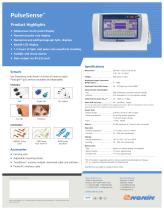 PulseSense™ Product Highlights ¡ Widescreen touch panel display ¡ Numerical pulse rate display ¡ Numerical and plethysmograph SpO2 displays ¡ Backlit LCD display ¡ 1.5 hours of SpO2 and pulse rate waveform trending ¡ Audible and visual alarms ¡ Data output via RS-232 port Specifications Sensors Use PulseSense with Nonin's full line of infant to adult PureLight® SpO2 sensors (reusable and disposable) Finger Clip Flex System Accessories ¡ Carrying case ¡ Adjustable mounting clamp ¡ TrendSense™ memory module, download cable and software * his information is especially useful for clinicians...
Open the catalog to page 2
All Nonin catalogs and technical brochures

Archived catalogs

Compare up to 10 products