Catalogs

>

Await
Catalog excerpts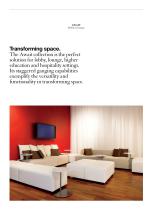 AWAIT EOOS, Germany Transforming space. The Await collection is the perfect solution for lobby, lounge, higher education and hospitality settings. Its staggered ganging capabilities exemplify the versatility and functionality in transforming space.
Open the catalog to page 2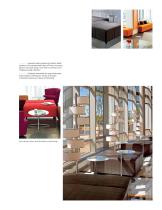 Exquisite tailoring featuring topstitch detail speaks to the sophisticated styling of Await; the spring packs in the seats bring a new level of comfort to the Coalesse lounge collection. Endlessly extendable for large landscapes, Await creates contemporary niches of dramatic in-between spaces and casual conferencing. Await benches shown with Bob tables and Joel lounge
Open the catalog to page 3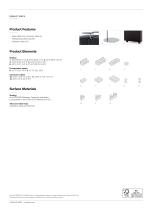 Await DESIGN EOOS Await Await SIN 711.16 Await DESIGN EOOS Coalesse Coalesse DESIGN EOOS d U.S. Prices Connector Tables Style 8 10 12 13 14 COL C Top Surface: E Specification Information Number , COM/yds = 51⁄ 29 COL/sq ft = 100 11 Laminate Clear Green/ Absolute Clear/ Colored Three-Section Connector Bench Clear Green Frosted Clear Frosted Glass Top 460-SE22 $621 $1426 N.A. $1495 N.A. $1517 N.A. Style U.S. Prices Two-Section Connector461-3B Glass Tablet: Bench Glass Top Glass Top Number Laminate Top: $2501 N.A. $2613$1695 $2658 $2692 $2767 $1796Freestanding $3123 Round Table $2823 $3005...
Open the catalog to page 4
All Nurture - Steelcase catalogs and technical brochures

Archived catalogs

Compare up to 10 products