Catalogs

>

Cachet
Catalog excerpts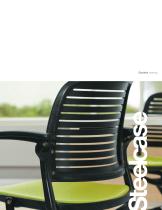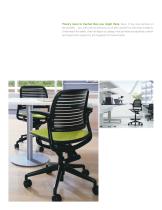 There's more to Cachet than you might think. Sure, it may look serious on the outside… but, with one sit we know you'll see Cachet® for the chair it really is. Underneath the sleek, chair-ish figure is a design that provides exceptional comfort and ergonomic support in the toughest of environments.
Open the catalog to page 3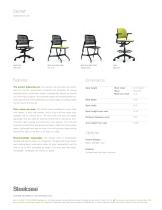 Work Chair with arms Multi-Use Stack Chair with arms Multi-Use Stack Chair without arms Stool with arms The perfect balancing act. The Cachet chair provides the perfect blend of comfort, ergonomics, durability and versatility. Its unique balanced-action suspension system automatically adjusts to provide you with proper support. Its composite edges and flexible slotted surfaces absorb and evenly distribute your body weight, providing instant comfort every time you sit. Pick a chair, any chair. The Cachet chair is available in a work chair with casters, a stool with casters, and a 4-leg...
Open the catalog to page 4
All Nurture - Steelcase catalogs and technical brochures

Archived catalogs

Compare up to 10 products