Catalogs

>

Leap ®
Catalog excerpts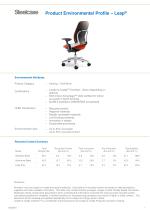 Environmental Attributes Product Category — Seating: Task/Work Cradle to Cradle™ Certified - Silver (depending on options) SCS Indoor Advantage™ Gold certified for indoor air quality in North America level® 3 certified to ANSI/BIFMA e3 standard LEED Contribution Environmental Facts Recycled content Regional materials Rapidly renewable materials Low-Emitting materials Innovation in design Sustainable purchasing Up to 94% recyclable Up to 35% recycled content Recycled Content Summary Model Standard Base Aluminum Base Leap Plus Total Recycled Content Post-Consumer Pre-Consumer Recyclability Weight (lbs) (lbs and %) (lbs and %) (lbs and %) (lbs and %) Disclaimer Numbers may vary based on model and options selected. Calculations of recycled content are based on data provided by suppliers and other available information. This data may include industry averages, ranges or other broadly based information. Steelcase makes conservative assumptions when compiling this information to provide the most accurate recycled content calculations possible but variability in market conditions or manufacturing processes may result in higher or lower content. This document will be reviewed and updated periodically and is subject to change without notice. Cradle to Cradle Certified™ is a certification mark licensed by the Cradle to Cradle Products Innovation Institute.
Open the catalog to page 1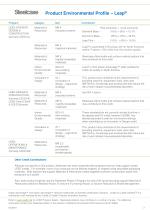 Program Category Item LEED-INTERIOR Materials & DESIGN & Resources CONSTRUCTION (formerly LEED-CI) MR 4 Post consumer + A pre-consumer (recyc|ed content) Standard Base - (10%) + (8%) = 13.7% Materials & Resources Leap® is assembled in Reynosa, MX for North American orders. Projects < 500 miles from this location qualify. Materials & MR 6 Steelcase offers textile and surface material options that Resources (rapidly renewable may contribute to this credit. materials) Indoor IEQ 4.5 Leap® is SCS Indoor Advantage™ Gold certified for Environmental (low...
Open the catalog to page 2
All Nurture - Steelcase catalogs and technical brochures

Archived catalogs

Compare up to 10 products