Catalogs

>

Ology Height-Adjustable Desk Brochure
Catalog excerpts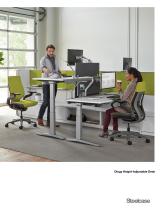 IMPROVING WORKPLACE PHYSIOLOGY Every aspect of Ology has been designed to promote user movement and wellbeing, including two controller options—Simple Touch and Active Touch. Ology's Simple Touch controller allows users to effortlessly move the desk up or down without taking their eyes off their work, while Active Touch reminds workers to change posture with Active Motion: subtle desk movements that remind users to maintain posture. Users create a profile with preset desk heights and preferred intervals of sitting and standing, and the Bluetooth-enabled controller seamlessly pairs with the...
Open the catalog to page 2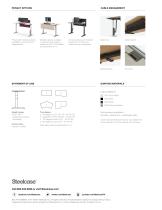 PRIVACY OPTIONS Privacy and modesty screens available to connect to the integrated rail. CABLE MANAGEMENT Modesty panels available in laminate and veneer in widths from 34" to 76". Widths are parametric to 1/16". Universal privacy and modesty screens do not have any visible clamps or hardware. Cable basket Cable brackets Cable riser SURFACE MATERIALS Height range: • 22.6"- 48.7" • obstruction-sensing technology Corner style: or radius Top shapes: a rectangular D: 23", 29", 35" – W: 34"-78" b tapered D: 23"/29", 29"/23" – W: 58"-78" c 120-degree corner D: 23" – W: 34"-64" d 90-degree corner...
Open the catalog to page 3
All Nurture - Steelcase catalogs and technical brochures

Archived catalogs

Compare up to 10 products