Catalogs

>

Swathmore
Catalog excerpts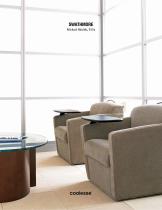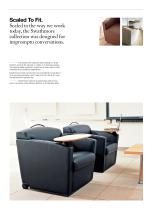 Scaled To Fit. Scaled to the way we work today, the Swathmore collection was designed for impromptu conversations. The Swathmore collection offers seating in a small footprint size that fits naturally in a lobby or in-between spaces. The optional tablet creates an instant touch-down area for both corporate and educational applications. Swathmore's simple construction and cost-effective scale aids in its unwavering popularity, which holds true from the time it was first introduced to present day. Swathmore's optional louvered base adds a focal point to the piece while drawing attention to...
Open the catalog to page 2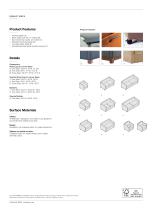 = loose with comfort appear Available in Rapid10. wrinkles when upholstered. plywood. sary requirements, important • processing instructions, and Upholstery: multiple densities of polyure and polyester fiber on seat, back, and ar Acryl ordering information Tip: All cushions are attached. • Legs: • Chair cSee Coalesse Surface Materials solid maple Standarddia. non-adjustable metal 1⁄ 8" Includes • Glides: 1 • Two-s Reference Guide. Tip: Recommended leathers Tip: Fabrics and leathers will • finge • Frame: unibody construction withThree are Elmosoft Gradecomfort appear loose with C and plywood...
Open the catalog to page 4
All Nurture - Steelcase catalogs and technical brochures

Archived catalogs

Compare up to 10 products