Catalogs

>

Oxygen Therapy Treatment for Single Patient and Multiple Casualty Incident
Catalog excerpts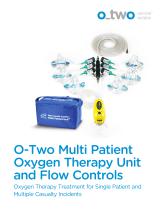 O-Two Multi Patient Oxygen Therapy Unit and Flow Controls Oxygen Therapy Treatment for Single Patient and Multiple Casualty Incidents
Open the catalog to page 1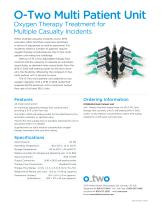 O-Two Multi Patient Unit Oxygen Therapy Treatment for Multiple Casualty Incidents When multiple casualty incidents occur, EMS providers often find their resources stretched in terms of equipment as well as personnel. For incidents where a number of patients require oxygen therapy simultaneously, the O-Two multi patient unit meets the challenge. With six 0-15 L/min adjustable therapy flow controls and the capacity to operate an automatic resuscitator or demand valve resuscitator from the 9/16 in DISS self-sealing outlet on the end of the unit, the flexibility offered by the compact O-Two...
Open the catalog to page 2
O-Two Oxygen Flow Controllers Oxygen Therapy Treatment for Single Patient Incidents When you need to provide oxygen therapy the O-Two adjustable oxygen therapy flow controller provides high quality manufacturing and performance. The O-Two adjustable oxygen therapy flow controller is a calibrated, 12-position, fixed orifice, non-gravity sensitive flow controller. The flow controller is available in a complete range of Chemetron, Ohio, female swivel DISS or 1/8 NPT female pipe inlet connections and DISS fitting valve outlet connections. The flow controller is a lightweight, unibody,...
Open the catalog to page 3
All O-Two Medical Technologies catalogs and technical brochures

Archived catalogs

Compare up to 10 products