Catalogs

>

SMART BAG® MO
Catalog excerpts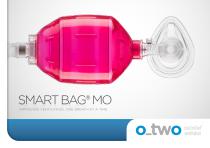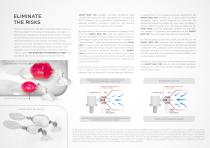 ELIMINATE THE RISKS Since its introduction, the Bag-Valve-Mask resuscitator (or BVM) has been the mainstay of emergency ventilation in both the pre-hospital and hospital environments. However, the use of these devices has been shown to have clinically detrimental effects on the patient. Decreased venous return to the heart, decreased coronary perfusion pressure, gastric insufflation and increased brain ischemia in the traumatic brain injured patient are all issues created by what is called "INADVERTENT HYPERVENTILATION" (the accidental delivery of an excessive minute volume). SMART BAG® MO...
Open the catalog to page 2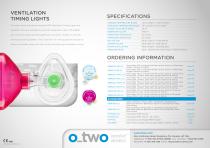 VENTILATION TIMING LIGHTS SPECIFICATIONS STORAGE TEMPERATURE RANGE To further assist the rescuer optional CPR Ventilation Timing Lights are OPERATING TEMPERATURE RANGE PATIENT VALVE DEAD SPACE RESERVOIR VOLUME INSPIRATORY RESISTANCE EXPIRATORY RESISTANCE STROKE VOLUME MAXIMUM CYCLE RATE PRESSURE RELIEF available. They are calibrated to provide a respiratory rate of 10 breaths per minute for adults and 20 breaths per minute for children in line with the resuscitation guideines. The 1.5 second "on" time guides the rescuer to deliver the breath slowly with the correct inspiratory and...
Open the catalog to page 3
All O-Two Medical Technologies catalogs and technical brochures

Archived catalogs

Compare up to 10 products