Catalogs

>

BF-H190
Catalog excerpts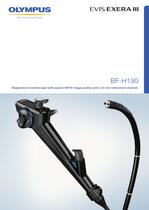 Your Vision, Our Future Diagnostic bronchoscope with superb HDTV image quality and a 2.0 mm instrument channel.
Open the catalog to page 1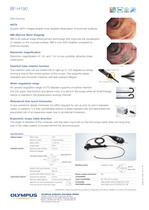 Main features Superb HDTV images enable more detailed observation of bronchial surfaces. NBI (Narrow Band Imaging) NBI is an optical image enhancement technology that improves the visualisation of vessels on the mucosal surface. NBI is now 50% brighter compared to previous models. Electronic magnification Electronic magnification of 1.2x and 1.5x is now possible, allowing closer Insertion tube rotation function The insertion tube can be rotated left or right up to 120 degrees by simply turning a ring on the control section of the scope. This supports easier operation and smoother insertion...
Open the catalog to page 2
All Olympus America catalogs and technical brochures

Compare up to 10 products