Catalogs

>

BF-PE2
Catalog excerpts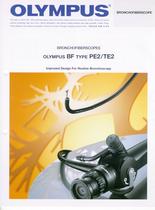 OI)mput i* jhout life. A bou! phonograph K iimovjlKin* thai G jplurc pícvíou* momenti of life. About advanced imkal kvhjioiug) ih* -J»C* Ino Abuut inltnnatMn- MÍ ntuoiv icUcd pn«h»t> Oui mAc pusuhtc a hrtu-r h\inf Annul adding fcuhe tK*uv«aixl ifulrt> uf life fi«cv«>«*ir.OI>mpu- (>jjht> |x»«Iixt« "ith . fOCUS ON IIFI
Open the catalog to page 1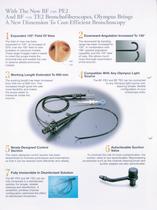 And BF TYPE TE2 Bronchofiberscopes, Olympus Brings A New Dimension To Cost-Efficient Bronchoscopy J Expanded 120° Field Of View The field of view has been 20% over the 100" field of view available on previous models. These larger images make it easier to orient the scope inside the bronchial tree and enable the user to observe details previously Downward Angulation Increased To 130' range has been increased to oí view, this allows much more thorough examination Working Length Extended To 600 mm The working length has been increased increased length gives the user more flexibility and makes...
Open the catalog to page 2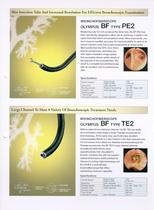 Slim Insertion Tube And Increased Resolution For Efficient Bronchoscopk Examination Measuring only 4.9 mm across at the distal end. the BF-PE2 has been specifically designed to allow you to maneuver it easily in the upper bronchial lobes and peripheral areas. More importantly, you won't have to sacrifice accuracy for maneuverability. In spite of its narrow insertion tube, this scope incorporates an image guide fiber bundle that has 30% more fibers than its predecessor, providing you with higher-resolution image quality that accurately shows subtle details of the interiors of the bronchial...
Open the catalog to page 3
All Olympus America catalogs and technical brochures

Compare up to 10 products