Catalogs

>

BF-Q180
Catalog excerpts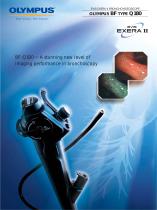 EVIS EXERA II BRONCHOVIDEOSCOPE EVIS EXERA II BRONCHOVIDEOSCOPE OLYMPUS BF TYPE Q180 OLYMPUS Main Features • Superior image quality and a larger image size redefines examination and treatment in the bronchial tree. • Narrow Band Imaging capability to highlight hidden tissue structures. • Despite superior image quality, this scope features a slim design — measuring 5.1 mm in diameter at the insertion tube and 5.5 mm in diameter at the distal end. • Standard 2.0 mm diameter channel to accommodate a wide variety of endo-therapy accessories. BF -Q180 — A stunning new level of imaging performance in bronchoscopy • Compatible with electrosurgical and laser devices. • Fully compatible with the Olympus CV-180 (CV-160/140) video processor and CLV-180 light source. • Scope ID function stores individual scope information and displays it on the monitor to help facilitate management in cpulmonary labs and operating rooms. Specifications Light Guide lens Optical System Field of view 120˚ Direction of view 0˚ (Forward viewing) Depth of field 3 ~ 100 mm Insertion Tube Distal end outer diameter 5.5 mm Insertion tube outer diameter 5.1 mm Working length 600 mm Instrument Channel Channel inner diameter 2.0 mm Minimum visible distance 3 mm from distal end Endo therapy accessory entrance/exit position in field of view Bending Section Angulation range UP 180°, DOWN 130˚ Laser Compatibility Nd: YAG, 810nm diode Electro-Cautery Instrument Compatibility YES Total Length 870 mm Instrument Channel outlet Objective lens Light Guide lens Ancillary product CV-180 Video System Center Designed to accommodate a wide range of scopes from a myriad of specialties, this leading-edge video processor offers highresolution images and state-of-the-art image processing capabilities such as Narrow Band Imaging as well as a range of practical digital solutions. CLV-180 Xenon Light Source With its powerful 300-watt xenon lamp, this light source unit delivers brilliant, shadow-free illumination and is equipped with filters that have been specially coated for use in Narrow Band Imaging. A new button on the front panel lets you turn the lamp on or off without having to power down the light source unit itself. Specifications, design and accessories are subject to change without any notice or obligation on the part of the manufacturer. Shinjuku Monolith, 3-1 Nishi-Shinjuku 2-chome, Shinjuku-ku, Tokyo 163-0914, Japan 491B River Valley Road #12-01/04,Valley Point Office Tower,Singapore 248373 Room 1520-1527, Ocean Centre, 5 Canton Road, Tsimshatsui, Kowloon, Hong Kong 2 Corporate Center Drive, Melville, N.Y. 11747-3157, U.S.A. Room.1202, NCI Tower, A12 Jianguomenwai Avenue Chaoyang District Beijing, 100022, China One Corporate Drive, Orangeburg, New York 10962, U.S.A. 117071, Moscow, Malaya Kaluzhskaya 19, bld. 1, fl.2, Russia 6100 Blue Lagoon Drive, Suite 390 Miami, Florida 33126-2087, U.S.A 31 Gilby Road, Mount Waverley, VIC., 3149, Australia Keymed House, Stock Road, Southend-on-Sea, Essex SS2 5QH, England
Open the catalog to page 1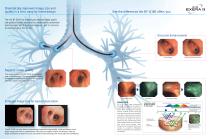 Dramatically improved image size and quality in a slim, easy-to-insert design The new BF-Q180 has dramatically improved image quality and greatly enlarged image size in comparison to conventional bronchoscopes, yet its distal end measures just 5.5 mm and its insertion tube a thin 5.1 mm. Structure Enhancement Normal Setting Structure Enhancement Level Superior image quality The image quality of the BF-Q180 is something new in bronchoscopy. This extraordinary imaging is capable of rendering all details of the bronchial tree with superb sharpness and clarity. Conventional image Enlarged image...
Open the catalog to page 2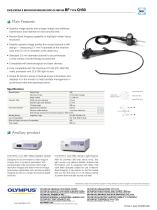 EVIS EXERA II BRONCHOVIDEOSCOPE OLYMPUS BF TYPE Q180 Main Features • Superior image quality and a larger image size redefines examination and treatment in the bronchial tree. • Narrow Band Imaging capability to highlight hidden tissue structures. • Despite superior image quality, this scope features a slim design — measuring 5.1 mm in diameter at the insertion tube and 5.5 mm in diameter at the distal end. • Standard 2.0 mm diameter channel to accommodate a wide variety of endo-therapy accessories. • Compatible with electrosurgical and laser devices. • Fully compatible with the Olympus...
Open the catalog to page 3
All Olympus America catalogs and technical brochures

Compare up to 10 products