Catalogs

>

TJF-Q180V
Catalog excerpts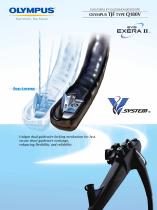 Your Vision, Our Future DUAL LOCKING EVIS EXERA II™ DUODENOVIDEOSCOPE Unique dual guidewire locking mechanism for fast, secure short guidewire exchange, enhancing flexibility and reliability
Open the catalog to page 1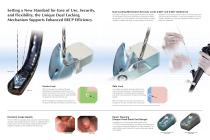 Setting a New Standard for Ease of Use, Security, and Flexibility, the Unique Dual Locking Mechanism Supports Enhanced ERCP Efficiency Dual Locking Mechanism Securely Locks 0.025" and 0.035" Guidewires Completely redesigned to ensure greater reliability and flexibility, the TJF-Q180V's dual locking mechanism is optimized to exploit the reactive force of the guidewire. The forceps elevator has been modified to broaden the range of scope positions in which the guidewire can be securely locked. Thanks to the firmer grip of the new dual locking mechanism, a 0.025-inch guidewire can now be...
Open the catalog to page 2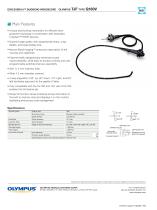 EVIS EXERAII™ DUODENO VIDEOSCOPE OLYMPUS TJF TYPE Q180V • Unique dual locking mechanism for efficient short guidewire exchange in combination with dedicated V-System™ ERCP devices. • Superb image quality with exceptionally sharp, crisp details, and large display size. • Narrow Band Imaging™ enhances observation of the • Economically designed grip enhances scope maneuverability, while easy-to-access controls and user programmable switches improve operability. • Slim 11.3 mm insertion tube. • Wide 4.2 mm diameter channel. • 4-way angulation (120° up, 90° down, 110° right, and 90° left)...
Open the catalog to page 3
All Olympus Medical Europa catalogs and technical brochures

Archived catalogs

Compare up to 10 products